NCS At Booth #29-30
2019 AFCEA Homeland Security concludes today at the Reagan Building and International Trade Center, 1300 Pennsylvania Avenue NW, Washington, DC. The conference focuses on identifying, reducing and mitigating risks for federal agencies. Successfully securing the homeland depends on preparing for the unknown, preventing attacks and planning recovery. Discussions topics include nontraditional procurement methods, winning small business contracts, the protection of data in the cloud, and actions that federal, state and local governments can take to enhance CIP and incident response.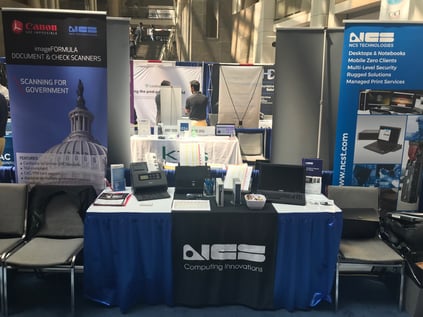 Please stop by NCS at Booth #29-30, We are featuring HP PC and Print solutions, Cannon document scanners and the NCS Cirrus virtual end point product portfolio.

NCS Is an HP Platinum Partner
NCS is a close partner to HP in the federal sector and will be showcasing HP solutions at this event. We work closely with HP on many federal contracts and Blanket Purchase Agreements, including NASA SEWP (A,C), GSA IT 70, GSA 36 (pending), ARMY AMDC-2, USAF CCS-2 and DPI. Our customers include large civilian agencies, most branches of the military and the intelligence agencies. We sell nearly all HP products and services, including PC, Print, 3D Print, MPS and DaaS.
NCS Offers A Family of Zero Client End Points
PCoIP is a high performance computer display protocol used in endpoint virtualization. PCoIP from Teradici uses advanced compression to provide end users with rich content from the cloud or data center. PCoIP securely delivers applications or workspaces to the endpoint by compressing and encrypting pixels delivered to end-user devices. More than 10 million endpoints use PCoIP. NCS offers a family of zero client end point solutions based on the PCoIP protocol.
The NCS portfolio includes:
* Zero Client Desktops With Dual Display - Cirrus TZ-202L & Cirrus DT 5220
* Zero Client Desktops With Quad Display - Cirrus TZ-204L
* WiFi Zero Client Desktops with Dual Display - Cirrus DT WiFi & Cirrus DT 5230
* Zero Client Laptop - Cirrus LT Plus
Canon ImageFORMULA Document Scanners
Also at this event NCS is showcasing Canon imageFORMULA scanners. They are designed to improve productivity and efficiency anywhere, from home offices to classrooms. Users can conveniently execute general purpose distributed scanning tasks and help reduce paper in the process.
To make an appointment, please call Matt Cooke at (540) 604-3710.
To learn more about NCS zero client solutions, click on the button below.