See You at NCS at Booth 226
NCS is a major exhibitor at the Air Force Information Technology & Cyberpower Conference, Montgomery, AL, August 26-28. This is the premier Air Force IT and cyber security annual event. The show attracts Air Force IT experts, prominent IT academics, and some of America's top IT and cyber security companies. AFITC offers a full slate of events and activities, with three days of speakers, and an expanded education/training opportunities.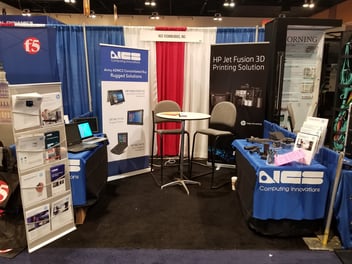 Nearly 4,000 attendees, speakers, and exhibitors participated in the AFITC 2018, while the trade show hosted over 170 companies who showcased cutting edge products, services, and information to help further the public/private partnership crucial in keeping our country safe and secure. It is at this conference that experts review the increasingly complex and connected role that advanced technologies play in the AF core mission.
Theme: Cyberpower: Critical to Multi-Domain Operations
* Build a more lethal force through gaining and maintaining persistent information advantage for the Joint Force
* Assure AF core missions from threats in, through, and from cyberspace
* Enable effective and efficient integrated awareness derived from rapid processing, exploitation, and dissemination of decision-quality information.
At Booth 226 NCS is featuring a variety of advanced technologies, including rugged desktops and tablets from our QEB catalog, HP 3D Printing Solutions, HP Printers and Toner and Cannon scanners.
Durabook, Samsung, Canon, HP 3D Printing, and HP Printing & Toner
NCS will promote a portfolio of rugged solutions from Durabook and Samsung, now available as a part of AFWAY, QEB 2019B.
Durabook products on display include the Z14 Rugged Notebook and the S14 Semi-Rugged Notebook. The Z14 14" Fully Rugged Laptop features a new innovative design with 100% rugged focus. It delivers less down time with longer battery life. The S14 14" Semi-Rugged Laptop features superior mechanical design, next-generation DynaVue display technology and customization options. The Samsung Galaxy Tab Active 2 8" Tablet enhances mission capabilities and is MIL-STD 810G and IP68-certified. It has a secure, customizable platform and meets strict DoD security and mission requirements.
NCS is a Platinum HP Parter and sells all HP solutions.
NCS sells and services the compact HP Jet Fusion 580/380 Color and HP Jet Fusion 4200/5200 3D printers. HP is the innovation leader and it's technology makes it possible to create complex prototypes in a relatively effortless manner.
With 3D printing, the combination of easy prototyping capabilities, speed, high quality and attractive pricing all increase business flexibility. NCS and HP collaborate on some of the largest, most complex federal government contracts involving printers and PCs. The company has a strong track record of delivering value-added services and creating a high level of customer satisfaction. NCS is an authorized HP reseller delivering any needed services and applications expertise to maximize 3D printer performance, throughput, part quality and yield.
NCS is also a close partner to HP selling HP Printers and Toner. You can count on HP for dependable, cost-effective printers and toner to meet any business need. At the booth we will have an HP Color LaserJet Enterprise M553dn which features up to 40 ppm, has auto duplex printing, two paper trays and uses toner with Jet-Intelligence.
NCS at the booth will also be showcasing the Canon ImageForumula DR-C225 Office Document Scanner. This scanner is ideal for general purpose distributed scanning of a variety of document types. In corporate or remote offices, this scanner delivers small size and ease of use.
As you can see, NCS is offering an amazing array of advanced technology solutions at Booth 226. Please stop by and see how NCS can be your preferred supplier for Air Force IT solutions.
To learn more about HP 3D printing solutions, please click below.
Download the zero client solutions brochure