Fall Technology Expo at Aberdeen Proving Ground
Stop by the Aberdeen Proving Ground (Top of the Bay) today to explore HP 3D Printing Solutions and NCS Rugged Servers solutions. The Fall Technology Expo for APG is a great opportunity to interact with key personnel from the organizations and commands from all over this very important Army installation. Visitors interact with hundreds of technology personnel from organizations at APG in this one very productive Expo. Whether you want to strengthen relationships with APG customers or make new contacts or need to start making inroads at Aberdeen Proving Ground, the APG Fall show is the way to do it. Over 400 APG personnel attend the fall event and over two dozen vendors are on hand.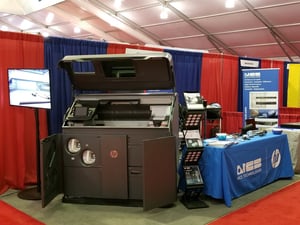 The event is sure to be busy for NCS, as there is strong interest in NCS custom rugged servers and HP solutions.
NCS & HP: Partners in 3D Printing
NCS sells the compact HP Jet Fusion 580/380 Color and HP Jet Fusion 4200/5200 Printing Solution for industrial prototyping and final part production. One of the most important applications for 3D printing is nearly effortless prototyping. In addition, 3D printing speeds time to market by making certain production-level quality parts available more quickly. These parts may also be manufactured at lower cost. The combination of prototyping, speed and high quality increases business flexibility.
NCS collaborates with HP on some of the largest, most complex federal government contracts involving printers and PCs. The company has a strong track record of delivering value-added services and creating a high level of customer satisfaction.
To learn more about NCS and HP 3D printing, please go to this link: https://www.ncst.com/products/categories/3d-printing
NCS Rugged Servers
At these events NCS often features such solutions as the 1U twin server and a 1.5U front I/O server, both custom designed for the military.
The servers are independently tested to insure they meet or exceed the rigorous military standards required for deployment on submarines. The servers use COTS components to deliver the latest in technology to the Navy while providing the best value. For deployment on submarines, surface ships, ground vehicles or aircraft NCS has the engineering and manufacturing expertise to deliver exactly what the mission requires.
To learn more about NCS servers and services capabilities, please go here. Or just click on the button below.