Secure, multi-level computing in government agencies has always been a challenge for end users and IT administrators. The idea of consolidating networks to fewer physical machines is not new, and has been addressed in different ways by various hardware and software approaches over the years. This blog addresses SecureView in this context.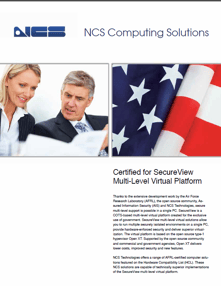 SecureView, the Latest Approach
SecureView represents the latest approach to the multi-level network problem. SecureView is a multi-level virtual platform which allows a user to run multiple securely isolated environments on a single PC, provide hardware-enforced security and deliver superior virtualization in the most demanding environments. The virtual platform is made possible by extensive development work by the Air Force Research Laboratory, the open source community, Assured Information Security and NCS Technologies. Other programs such as DTS and SABER aimed to achieve similar goals but none of them do it as well.
Over the past three years I have had the opportunity to work with the developers of SecureView and recommend this virtual platform.
SecureView Addresses a Real-World Problem
SecureView addresses this real-world problem: Many government workers use multiple computers for secure access to multiple networks, applications and services. It would not be unusual to have many PCs crowded under a desk with a rat's nest of cables running all over the place. Did you want your feet to go under there too? The lucky ones have KVM switches in place to reduce the number of keyboards, mice and monitors associated with each PC. Other challenges associated with all of this hardware include inefficient power consumption, excess heat and poor ergonomics.
With SecureView, a user can have 6 (or more) virtual instances running on one computer! To further reduce power and space requirements at the desk, users now have the option of using a zero client to securely, remotely connect directly to the host PC. This takes security up another level by removing direct user access to locally stored data.
If you would like to learn more about our virtual solutions, please browse the NCS home page, where all of our solutions are showcased. If you'd like to read more about SecureView, please download this brochure!