High Performance For Intensive Data Processing
Built with an Intel® 8th Generation CPUs and Intel® UHD 620 graphics processors, the Durabook S14I Rugged Laptop makes intensive data processing a breeze. With the ultra-high-speed data transmission capability of Intel® Dual Band Wireless AC 9260 and Bluetooth® V5.0, all information is instantly synced and fed back to the data control center.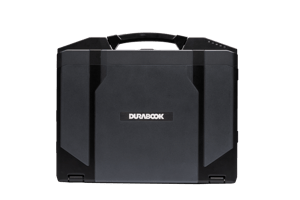 The S14I Delivers Exceptional Durability
The S14I is built with a robust mechanical design and rigorously tested components. It meets the standards of MIL-STD-810G; withstands up to a 4-foot drop; and boasts an IP53 rating. This tough yet elegant laptop breaches the boundary between semi-rugged and fully-rugged devices.
Brightness and High Contrast, Optimized for Both Indoors and Outdoors
The S14I sports a Full HD 1080p display and proprietary DynaVue® technology. With brightness enhanced up to 1,000 nits and light-filtering technology providing a high contrast ratio (CR) to eliminate reflection, every detail of imagery is delivered with the utmost clarity. The 10-point capacitive multi-touch panel has four Touch Modes (Glove, Stylus, Water, Finger), optimizing use of the device for both indoor and outdoor applications.
Light, and Delivers Non-stop Service on the Go
In the field, portability equals productivity. The S14I weighs only 5.07 lbs and is 33% slimmer than the previous generation. Adding ultra-long battery life of 12 hours and battery swap capability to its mobile form factor, the S14I enables non-stop operation outside of the office.
Best-in-Class Connectivity
A smart device knows how to communicate in every way, and the S14I says it all: It's compatible with a full range of interfaces, and the media bay offers all the customized expansion you may need.
To learn more from our website about other Durabook solutions that we sell and support, please click here:
https://www.ncst.com/products/categories/rugged-laptops-tablets
On the Durabook website, more information is linked here:
https://www.durabook.com/us/products/s14i-laptop/
For immediate information, please contact Erin Dunn from NCS at 571-465-7737.