HP 3D Printing Solutions a Focus in Tampa

The Military Additive Manufacturing Summit and Technology Showcase ends today at the CAMLS Center, Tampa. We are seeing a lot of interest in HP 3D Printing Solutions the NCS table. The Summit is an educational and training forum for government and military to discuss the latest innovations in 3D printing technology.
NCS is active in the 3D Printing market, through its partnership with HP. NCS sells and services the compact HP Jet Fusion 580/380 Color and HP Jet Fusion 4200 Printing Solution for industrial prototyping and final part production.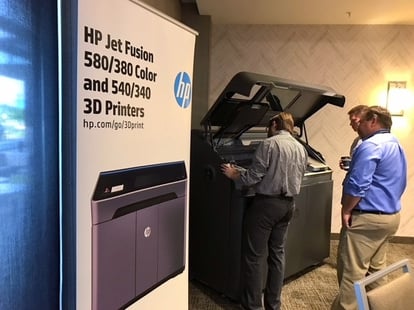 Prototyping, Speed and High Quality
One of the most important applications for 3D printing is nearly effortless prototyping. In addition, 3D printing speeds time to market by making certain production-level quality parts available more quickly. These parts may also be manufactured at lower cost. The combination of prototyping, speed and high quality increases business flexibility.
NCS Offers Innovative 3D Printing Solutions
NCS closely collaborates with HP on some of the largest, most complex federal government contracts involving printers and PCs. NCS is an authorized HP reseller delivering training support services and applications expertise to maximize 3D printer performance, throughput, part quality and yield.
To learn more about NCS and HP 3D printing, please go to this link: https://www.ncst.com/products/categories/3d-printing
Download the 3D printer solutions brochure