NCS Sells HP Jet Fusion 3D Printing Solutions For the Military
NCS will promote HP 3D Printing Solutions this week at three Florida Panhandle area military locations, NAS Pensacola, Hurlburt Field and Eglin Air Force Base. The first Tech Expo will be held tomorrow at NAS Pensacola, at the Mustin Beach Club.
The NAS Pensacola Tech Expo connects government and industry to collaborate on mission requirements and technology solutions. This event, which is open and free to all NAS Pensacola personnel, provides an opportunity to see the latest in emerging technologies and network with industry experts. Exhibiting companies provide live demos and hands-on training to benefit the attendees.
To set up an appointment at any of the three scheduled Expos, or for immediate information or a price quote, please contact Joe Andrews at 703.743.8512.
NCS sells and services the compact HP Jet Fusion 580/380 Color and HP Jet Fusion 4200/5200 3D printers. HP is the innovation leader and it's technology makes it possible to create complex prototypes in a relatively effortless manner.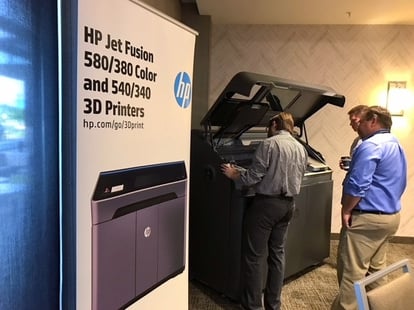 In addition to speed, some parts may also be manufactured at lower cost. The combination of easy prototyping capabilities, speed, high quality and attractive pricing all increase business flexibility.
NCS and HP collaborate on some of the largest, most complex federal government contracts involving printers and PCs. The company has a strong track record of delivering value-added services and creating a high level of customer satisfaction.
NCS is an authorized HP reseller delivering any needed services and applications expertise to maximize 3D printer performance, throughput, part quality and yield.
To learn more about NCS and HP 3D printing, please go to this link: https://www.ncst.com/products/categories/3d-printing
Download the 3D printer solutions brochure