NCS Sells HP Jet Fusion 3D Printing Solutions
NCS is promoting HP 3D Printing Solutions this week at the Defense Manufacturing Conference 2019, Phoenix Convention Center, Tuesday through Thursday.
The DMC Conference will be conducted simultaneously with the Diminishing Manufacturing Sources and Material Shortages (DMSMS) Conference. Attendees also may participate at the concurrent DMSMS Conference. The expanded Exhibit Hall includes all the leading organizations from both the DMC and DMSMS communities.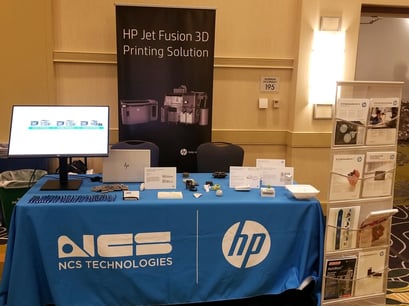 To set up an appointment to meet at NCS Booth 109, or for immediate information or a price quote, please contact Kyle Stromberg at 571.405.1059.
NCS sells and services the compact HP Jet Fusion 580/380 Color and HP Jet Fusion 4200/5200 3D printers. HP is the innovation leader and it's technology makes it possible to create complex prototypes in a relatively effortless manner.


In addition to speed, some parts may also be manufactured at lower cost. The combination of easy prototyping capabilities, speed, high quality and attractive pricing all increase business flexibility.
NCS and HP collaborate on some of the largest, most complex federal government contracts involving printers and PCs. The company has a strong track record of delivering value-added services and creating a high level of customer satisfaction.
NCS is an authorized HP reseller delivering any needed services and applications expertise to maximize 3D printer performance, throughput, part quality and yield.
To learn more about NCS and HP 3D printing, please go to this link: https://www.ncst.com/products/categories/3d-printing
Download the 3D printer solutions brochure