Visit NCS At Booth #218 in Tampa
Today is the final day for the Defense Intelligence Agency Worldwide Conference at the Tampa Convention Center.
Hosted by the DIA Director, Lt. Gen. Robert Ashley and DIA Chief Information Officer, Jack Gumtow, the DoDIIS Worldwide Conference is an immersive event designed to bring together a global consortium of IT professionals with shared interests, including the future of IT, information sharing, data and global security.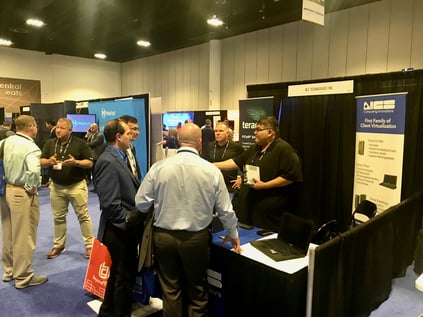 At this conference, NCS is focused on the benefits delivered by desktop virtualization. Please stop by the NCS Booth #218 and talk to Matt Cooke about NCS' complete desktop portfolio. NCS will describe the comparative benefits of thin clients and zero clients and filling in the background on various remote display protocols. NCS has all the updates on how zero client virtualization of client desktops help improve manageability, reduce cost of ownership and improve security.
NCS recommends PCoIP as the remote display protocol. PCoIP simply transfers the image of software running on a central server or workstation to any PCoIP-ready end-point. PCoIP compresses, encrypts and rapidly transports image pixels to end-user devices. They in turn decrypt, decompress and display the image on a screen. From a user's perspective, there is no difference between working with a local computer loaded with software and a zero client receiving the image of the software running via PCoIP.
Users get a high performance, fully-functional computing experience - even with HD. VMware is our virtualization platform of choice. This platform improves the availability, performance and utilization of IT resources.
For efficiency and value in managing its virtualized endpoints, NCS recommends its customers use the Teradici All Access Plan.
Teradici All Access Solution
With Teradici's licensing, there is a complete set of remote access solutions, enabling lower IT costs and reduced admin time. All Access securely delivers workspaces and applications from the cloud or datacenter, as needed. Existing applications can easily be migrated.
All Access allows the IT manager to manage, optimize and future proof any datacenter and zero client deployment. Datacenter elements and end points are always up to date, managed efficiently and supported by Teradici. Infrastructure may easily evolve and scale, whether in the data center or the cloud. Teradici All Access subscribers get exclusive access to cloud access software, PCoIP Management Console Enterprise, firmware upgrades, resources and support.
Ultra Secure Zero Clients
NCS offers a complete family of virtualized zero clients. The NCS portfolio includes:
* Zero Client Desktops With Dual Display - Cirrus TZ-202L & Cirrus DT 5220
* Zero Client Desktops With Quad Display - Cirrus TZ-204L
* WiFi Zero Client Desktops with Dual Display - Cirrus DT WiFi & Cirrus DT 5230
* Zero Client Notebook - Cirrus LT Plus
Please bring all of your virtualization questions to NCS at the show, or call Matt Cooke at 540-604-3710. To learn more about NCS zero clients solutions right now, just download this brochure.