Stop by Booth #704
The NCS booth is quite busy this week in Orlando for Defense Health Information Technology Symposium at the Grand Caribe Convention Center. DHITS is the leading IT event exploring the latest technology issues impacting the medical community serving the military. If you are not in Orlando, but have questions related to IT technologies, please call NCS experts Matt Cooke at (540) 604-3710 or Jeff Lodes at (703) 743-4642.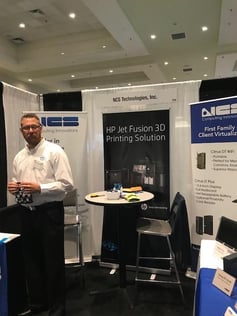 NCS is promoting its own products and partner solutions from Teradici, HP, Ergotron and Getac at the show. Highlights include:
Teradici All Access
Many NCS VDI desktop solutions are based on Teradici's PCoIP virtualization technology. NCS recommends Teradici's All Access plans, where you get a complete set of remote access solutions, enabling lower IT costs and reduced admin time while giving users maximum flexibility. All Access securely delivers workspaces and applications from the cloud or datacenter, as needed. Existing applications can easily be migrated, mobilizing your creative teams and leveraging the power of GPUs in the cloud. Talk to Matt Cooke about how to sign up.
NCS Solutions
NCS offers a comprehensive portfolio of the Zero Client desktops powered by PCoIP technology. For instance, the lightweight Cirrus LT laptop features a 14-inch display and a range of options, including webcam, WiFi, CAC reader, fingerprint reader and docking station. The Cirrus LT Plus features a full 15.6-inch display, numeric keyboard, hot swappable batteries and many options, including proximity card reader.
NCS and Ergotron StyleView
In addition, NCS offers Cirrus DT WiFi, the healthcare industry's only truly portable desktop zero client. Experience unparalleled manageability, security and reliability.
Cirrus DT WiFi is a proven hit in healthcare when coupled with Workstation on Wheels (WOW). With exceptional network capabilities in aisles, down long corridors and in patient rooms, Cirrus DT WiFi is the virtual desktop of choice for medical cart connectivity and patient care productivity. NCS partners with Ergotron StyleView to deliver a networking solution that is designed for enhanced workflow and superior caregiving.
NCS and 3D Printing for Healthcare
What impact will exciting 3D printing capabilities have on healthcare? This is probably the number one question at the NCS booth this week. NCS partners with HP to sell and service HP Jet Fusion 3D Printers. NCS sells the compact HP Jet Fusion 580/380 Color and 540/340 3D Printers, as well as the HP Jet Fusion 3D 4200 Printing Solution for industrial prototyping and final part production. Our expert on 3D printing is Joe Andrews, who can be reached at (703) 858-5169. Talk to Joe about the many ways 3D printing is bringing higher quality and timeliness to healthcare!
To answer you immediate questions about the NCS virtualization portfolio, please consider downloading this brochure.