The NCS Supported HP 3D Printing Solutions Draw Many to Booth

The Defense Manufacturing Conference at the Nashville Music City Center brought together leading government, military and manufacturers to showcase the latest innovations, including groundbreaking 3D printing technology.
NCS is active in the 3D Printing market, through its partnership with HP. NCS sells and services the compact HP Jet Fusion 580/380 Color and HP Jet Fusion 4200 Printing Solution for industrial prototyping and final part production.
Joe Andrews reports that the NCS booth was busy all week as attendees wanted to learn about the exiting HP 3D Printing solutions. To learn more, please contact him at (703) 743-8512.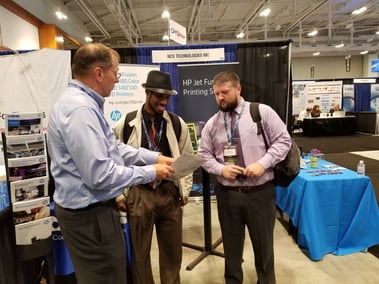 Prototyping, Speed and High Quality
One of the most important applications for 3D printing is nearly effortless prototyping. In addition, 3D printing speeds time to market by making certain production-level quality parts available more quickly. These parts may also be manufactured at lower cost. The combination of prototyping, speed and high quality increases business flexibility.

NCS Encourages Visits to Our 3D Printing Solutions Center in Virginia
NCS also showcases HP solutions at its Customer Center at the NCS headquarters in Gainesville, VA, just outside the Washington, D.C. Beltway. In the center, NCS showcases the powerful HP Jet Fusion 4200 Printing Solution. During your visit, you are encouraged to provide a digital image of a part important to your business or mission. We will be delighted to print this part during your visit to demonstrate how we can quickly and at low cost meet your requirements and expectations.
NCS is an authorized HP reseller delivering training support services and applications expertise to maximize 3D printer performance, throughput, part quality and yield.
To learn more about NCS and HP 3D printing, please visit https://www.ncst.com/products/categories/3d-printing
Download the 3D printer solutions brochure