Be Our Guest and Learn About HP 3D Printing Innovations for the Healthcare Community - Free Event!
Learn about medical additive manufacturing in an exciting new virtual format. Help us drive innovation and collaboration. The AM Medical Virtual Summit on May 27, free for you, with a registration link from NCS Technologies.
To register as a guest of NCS, please go to this link:
https://l.feathr.co/AM-Medical/-NCS-Technologies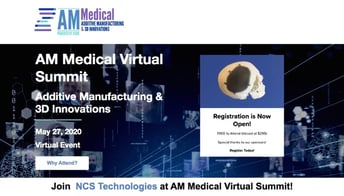 This free virtual experience will create meaningful connections and productive meetings. Get insights from thought-leaders at keynotes, participate in lunch and learns, spend time at the 20 sessions or explore what's new from a growing list of vendors—with NCS booth staff available for demonstrations and to answer all your questions.
NCS and HP are pleased to be a sponsor of the AM Medical Additive Manufacturing & 3D Innovations virtual event.
Register here:
https://l.feathr.co/AM-Medical/-NCS-Technologies
NCS is an HP partner, selling and servicing HP Jet Fusion 3D printers to government, healthcare education and commercial markets. NCS sells the compact HP Jet Fusion 580/380 Color and HP Jet Fusion 4200/5200 3D Printing Solutions for industrial prototyping and final part production.
NCS collaborates with HP on some of the largest, most complex federal government contracts involving printers and PCs.
For more information, please contact Joe Andrews at 703.743.8512.
Download the 3D printer solutions brochure