NCS Showcases the TruPrint 2000 System for Speed and Volume in Additive Manufacturing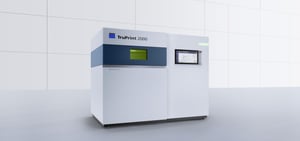 3D printing is revolutionizing manufacturing by speeding up prototyping and time-to-market production.
The TruPrint 2000 is a part of a portfolio of additive manufacturing solutions that NCS offers and delivers a unique combination of process speed and build volume for a broad range of users.
An Expanded Portfolio
"NCS Technologies is excited to have the opportunity to bring the TRUMPF portfolio of metal 3D printers to our customers," said Joe Andrews, director, 3D Print and Services. "We believe the quality, speed and capabilities of these systems allows us to provide solutions to our customers from industrial to medical applications."
NCS features three TruPrint solutions, the TruPrint 1000, the TruePrint 2000 and the TruPrint 3000.
TruPrint 1000 - A compact and robust solution for 3D Printing. The TruPrint 1000 can be used for processing any type of metal. It can be used to easily and quickly produce parts from complex CAD designs.
Is simple and intuitive to operate

Maximizes productivity

Delivers high process speed

Offers mobile operation and monitoring
TruPrint 2000 - Users can make the most out of cost-effective 3D Printing with premium quality
The TruPrint 2000 Offers:
Highly productive premium component quality

Lower costs per part

Highest quality standards

Simple operation
TruPrint 3000 - Is a flexible solution for industrial 3D Printing
The TruPrint 3000 Offers:
Large build volume

External part and powder management

Quickly replaceable build and supply cylinders

Industrial software and monitoring solutions
Trumpf - A Global Leader
The high-technology company TRUMPF offers production solutions in the machine tool and laser sectors. It is driving digital connectivity in manufacturing industry through consulting, platform and software offers. TRUMPF is the world technological and market leader for machine tools used in flexible sheet metal processing, and also for industrial lasers.
TRUMPF is a technology and global market leader in the industrial laser and laser system sectors. In the field of additive manufacturing (AM), the company has the two relevant technologies, laser metal fusion and laser metal deposition, in its program. As a laser and machine manufacturer, TRUMPF masters the entire process chain and offers a comprehensive solution for the industrialization of AM. Customers profit from robust and reliable machines for series production.
For more information about Trumpf and NCS, please go here: https://www.ncst.com/products/categories/3d-printing/trumpf
Or contact Kyle Stromberg at 571-405-1059.