NCS Desktop Virtualization Solutions Perfect for Today's WFH Scenarios
NCS Technologies is the proven leader in delivering zero client VDI solutions for desktops and mobility that are extremely secure, cost effective and easy to use and administer. Maintaining strong security policies are now even more important as the workforce shifts to Work From Home (WFH) in the era of Covid-19.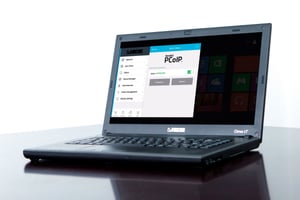 NCS is a leading supplier of virtual desktop technologies to the government, military and commercial markets such as healthcare and retail. For the past five years, our desktop and laptop solutions have been recognized for their strong security and effortless mobility and portability. As the nation shifts to WFH and social distancing to more effectively fight the spread of the novel coronavirus, NCS devices powered by Teradici software can help IT managers maintain security and save money.
The Challenge of WFH IT Security
IT managers understand that regular work PCs used in the home are highly vulnerable to security breaches. It's common that work computers may be used by family members. In addition, a worker may not follow corporate security policies as diligently when working in the more relaxed home environment.
NCS Zero Clients Meet the Security Test
For many administrators, using zero clients is the best solution. NCS Zero Clients are managed by VMware Horizon software and use the ultra-secure Teradici PCoIP remote display protocol.
NCS Zero Clients have no local OS. The operating system resides in the data center. Therefore, there is no persistent user data, no patches, updates or antivirus software needed. Of the many ways to virtualize at the endpoint, zero clients are proving to be the most effective, "no drama" solution.
More About PCoIP
PCoIP is a high performance computer display protocol used in endpoint VDI. PCoIP from Teradici uses advanced compression to provide end users with rich content from the cloud or data center. PCoIP securely delivers applications or workspaces to the endpoint by compressing and encrypting pixels. More than 10 million VDI endpoints use PCoIP. NCS partners with Teradici for desktop virtualization. To manage virtualized endpoints, NCS recommends the Teradici All Access Plan.
Teradici All Access Licensing Plan
Teradici's licensing plan enables the lowering of IT costs and reduction of admin time. Existing applications are easily migrated as needed.
All Access allows the IT manager to manage, optimize and future proof any data center and zero client deployment. Datacenter elements and end points are always up to date, managed efficiently and supported by Teradici. Teradici All Access subscribers get exclusive access to cloud access software, PCoIP Management Console Enterprise, firmware upgrades, resources and support.
The NCS VDI Portfolio
The NCS portfolio includes:
* Zero Client Desktops With Dual Display - Cirrus TZ-202L & Cirrus DT 5220
* Zero Client Desktops With Quad Display - Cirrus TZ-204L
* WiFi Zero Client Desktops with Dual Display - Cirrus DT WiFi & Cirrus DT 5230
* Zero Client Laptop - Cirrus LT Plus
Download this brochure to learn more about NCS virtualization solutions.