The Preferred Way to Protect Government Data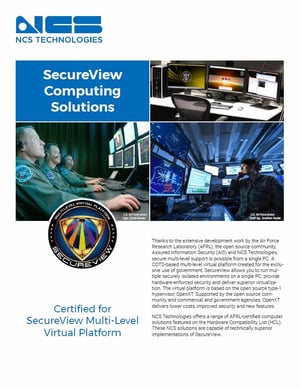 It previous blogs concerning government security challenges, we have noted how the issue is extremely complex. Planning for security threats includes protecting databases and servers in data centers, locking down endpoints (like laptops and notebooks), and educating employees about everyday social engineering threats (clicking on destructive malware on a website or answering a malicious email).
In addition, government workers must be mindful about how secure their everyday network communications are. To keep communications private and secure, government workers access various levels of secure networks. This is multi-level computing.
Examples of protected information networks include NIPRNet (private IP network), SIPRNet (classified), and JWICS (top secret).
Government and military workers often use virtualization tools at the endpoint to most best access these networks. Today, the preferred virtualization tool is SecureView, developed by the Air Force Research Laboratory (AFRL) and implemented by NCS Technologies.
SecureView runs multiple securely isolated environments on one PC or workstation, with hardware-enforced security. This increasingly popular security solution is the result of extensive and continuing development work by AFRL, the open source community, Assured Information Security and NCS Technologies. The latest version, SecureView 3.0, will be available soon.
SecureView is a low-cost, multiple-independent-levels of security (MILS) workstation-based-COTS technology which is based on Type 1 or bare metal client hypervisor. It allows single computer-to-host multiple-guest VMs running at different classification levels.
Access Multiple Security Domains Easily and Securely
SecureView provides local application execution and concurrent access to multiple security domains. This supports mission requirements, giving analysts the needed performance to run advanced applications, assess threats and share findings across agencies. NCS Technologies systems approved for use include the Stratus MT and Stratus DT desktops and the Vortex MT and Vortex MDT workstations.
NCS Is a Preferred SecureView Supplier
NCS has a long-term commitment to the SecureView marketplace and to the goverment workers who use SecureView.
Today, SecureView 2.3 is accredited and qualified to run on NCS desktop and workstation systems. NCS supports the memory and processing power required for the heavy workloads associated with running many VMs. The NCS development team works very closely with component vendors to optimize our hardware solutions - Vortex and Stratus computers - for SecureView implementations. NCS will deliver the exact form-factor needed, from the ultra-compact NUCs right up to full tower dual processor workstations.
Please browse our homepage to learn more about NCS SecureView solutions, or simply download this handy brochure.