NCS Offers Choices With SecureView & Zero Client Portfolio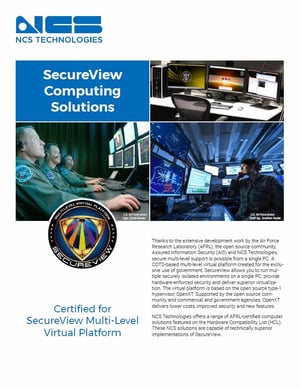 Strategies to thwart security threats include protecting databases and servers, locking down endpoints (like laptops and notebooks), and educating employees about everyday social engineering threats (clicking on destructive malware on a website or answering a malicious email).
Focusing on government network communications, IT administrators must accommodate potential access to various levels of secure networks, depending on the message and the need. This is known as multi-level computing.The various levels of protected information networks include NIPRNet (private IP network), SIPRNet (classified), and JWICS (top secret). When knowledge workers routinely access these multiple networks in a given day, they often use SecureView, developed by the Air Force Research Laboratory (AFRL) and implemented by NCS Technologies.
SecureView runs multiple securely isolated environments on one PC or workstation, with hardware-enforced security. This security solution is the result of extensive and continuing development work by AFRL, the open source community, Assured Information Security and NCS Technologies.
Access Multiple Security Domains
SecureView provides local application execution and concurrent access to multiple security domains. This supports mission requirements, giving analysts the needed performance to run advanced applications, assess threats and share findings across agencies. NCS Technologies systems approved for use include the Stratus MT and Stratus DT desktops and the Vortex MT and Vortex MDT workstations.
NCS Is Also Leader in PCoIP-Enabled Virtual Desktops
While NCS-SecureView systems are perfect for multi-level access scenarios, NCS is also the leading supplier of single-level virtualized desktop solutions for government. NCS zero clients are widely installed in many government and commercial settings. Our customers are sold on demonstrated manageability improvements, lower cost of ownership and improved security.
NCS offers a complete family of virtualized zero clients. The NCS portfolio includes:
* Zero Client Desktops With Dual Display - Cirrus TZ-202L & Cirrus DT 5220
* Zero Client Desktops With Quad Display - Cirrus TZ-204L
* WiFi Zero Client Desktops with Dual Display - Cirrus DT WiFi & Cirrus DT 5230
* Zero Client Laptops - Cirrus LT & Cirrus LT Plus
For more information about our zero client portfolio, please go to https://www.ncst.com/products/categories/zero-clients
Concerning SecureView, please browse our homepage to learn more, or simply download this handy brochure.