We're back from HIMSS 2016, and what a week we had! Many new visitors to the booth brought lots of interest and feedback. The time spent in the booth also offered plenty of opportunity to learn about our customers.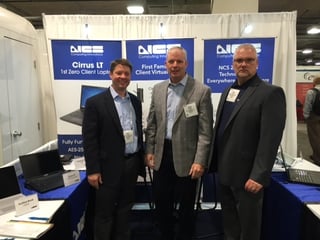 We learned that majority of healthcare IT is based on a Citrix environment running on a VMware back end infrastructure. We were laser focused on our VMware/AWS/Azure zero client computing solutions and will be expanding our showcase in the future to include the thin client devices needed to support Citrix.
Once we explained the difference between thin clients and zero clients, there were many questions about the manageability of our Cirrus zero client devices. It still surprises me to know how foreign this computing technology remains to so many people. The Tier 1's have done us no favors by muddying the waters when marketing client computing products. Just remember: Zero clients have no local OS, no hard drive, no user persistent data! Yes, it is a big deal.
Attendees this year ran the gamut from doctors and nurses to CIOs and IT professionals to Military IT administrators. It was good to get feedback from a wide variety of users. Most shows I attend are filled with techie junkies who are more focused on the underlying technologies than the aesthetics and user interface. Glad to see the other side's interests and hear their feedback.
A lot of the people we met were looking for tablet solutions. One product we were showing from Getac, the RX10H, was a big hit. Not only does it support cleaning with harsh chemicals, it has a long battery life and has been tested and certified to extremely rugged military test standards. Another product creating buzz for us is the Cirrus DT WiFi, our latest desktop zero client which offers integrated WiFi and roaming capabilities in a low-power, small form factor package. People really like the fact that zero clients are HIPAA compliant and that no EDR/EHR data can be lost or stolen from the device. Check out our latest solutions on our website and don't forget to download the whitepaper!