NCS is proud to announce the addition of HP Enterprise solutions to our diverse ecosystem. Now more than ever NCS has the tools to provide solutions for nearly any IT need. Whether you're deploying a VDI environment for your mobile workforce or adding compute capacity to your datacenter, NCS Technologies has the expertise to support your IT modernization project.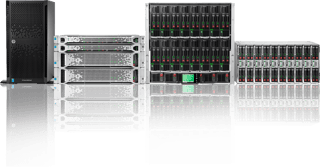 NCS offers fully customized turnkey solutions tailored to your specific needs with cutting-edge building blocks based on the latest Intel Xeon server architecture. Leveraging the HPE product portfolio makes available additional bundled options and preconfigured SKUs for rapid, scalable deployment in your datacenter.

HPE's OneView allows IT admins to deploy virtual machines in five clicks, and add compute and storage capacity in minutes. OneView implementation enables generalists to easily handle all management tasks, perform changes to VMs in minutes, and automatically update firmware and drivers without impacting operations.

Please contact NCS sales to learn more about the latest hyper converged HC380 single SKU preconfigured bundles from HPE for an all-in-one compute, software-defined storage and intelligent virtualization solution.