At a recent trade show we showed off our latest NCS Technologies Vortex workstation running SecureView 2.1 with all the bells and whistles - Liquid-cooled Intel Core i7 processor, multiple high-end graphics cards, fiber NICs, 32GB of RAM, multiple monitors.
What You Can Do WithSecureView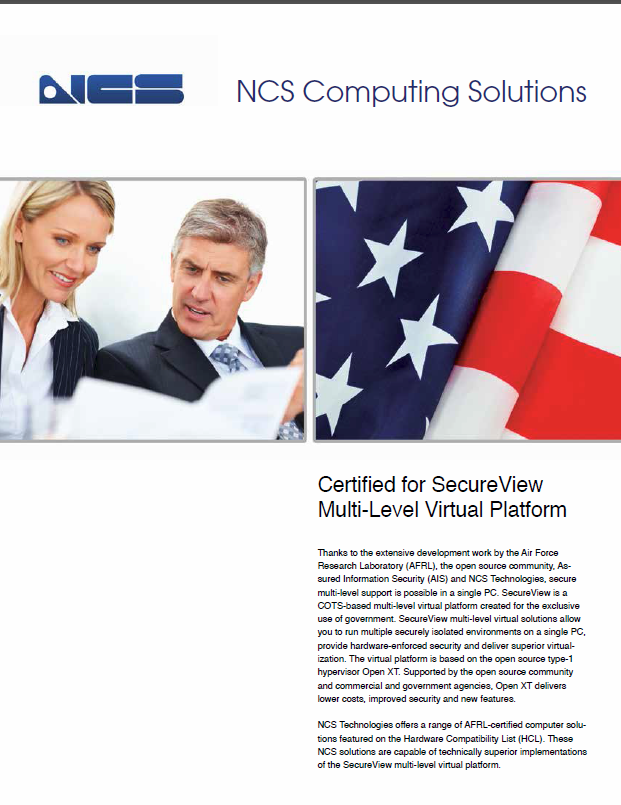 SecureView is a multi-level virtual platform which allows a user to run multiple securely isolated environments (typically up to five or six environments up till now) on a single PC, provide hardware-enforced security and deliver superior virtualization in the most demanding environments. The virtual platform is made possible by extensive development work by the Air Force Research Laboratory, the open source community, Assured Information Security and NCS.
The great thing about the latest SecureView 2.1 is the ability to run more isolated environments than was previously possible. Our feedback is that analysts need to run 7, 8 or even 15 VMs in some cases to replace all of the physical PCs on the desktop.
SecureView 2.1 and NCS Technologies Hardware: Perfect Together
With SV2.1 and the work we have done with the software teams developing SecureView, our workstations can now support the memory and processing power needed for the heavy workloads associated with running so many VMs. We have spent the last three years working with hardware vendors and testing motherboards, processors, memory, NIC cards, graphics card, and drives to optimize our solution. Today NCS offers form factors as small as the NUC (think hockey puck-sized PC) to traditional desktop, laptop and tablet form-factors and, now, the full tower dual processor workstations.
Come by and see us at the next show or download our whitepaper on SecureView for more details.