Stop by NCS Booth #203
AUSA Expo, organized by the Association of the United States Army Institute of Land Warfare, is an important Army professional development event. More than 6,000 guests are attending and today marks Day Two of a three-day trade show. Please stop by the NCS booth and talk with Joe Guest and Mark Cuthie, who are experts on Army IT needs and ready to demonstrate a range of computing solutions that are tactical, fully deployable and often rugged.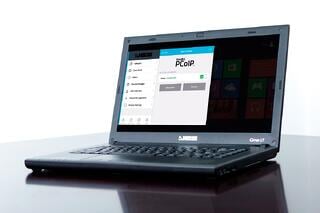 NCS is a long-term supplier of innovative computing solutions to the Army and is investing to take the relationship to the next level.
At AUSA NCS solutions include SecureView virtualized workstations and desktops, the Cirrus family of virtual zero client end point devices, Getac rugged PCs and servers, and the Defender E-Tools rugged cabinet.
The Defender E-Tools Cabinet -fully rugged and fully deployable - is proving to be a big hit at the booth. Defender is built to offer cost effective, exceptional shipping protection of notebooks and tablets. The cabinet is designed around a proven Hardigg transit case with an integrated shock mounted rack system.
NCS is also demonstrating a fully functioning and deployable VDI network based on our servers and the NCS zero client portfolio.

Ultra Secure Zero Clients Are Perfect for the Army
NCS offers a complete family of virtualized zero client PCs to the Army. The NCS portfolio includes:
* Zero Client Desktops With Dual Display - Cirrus TZ-202L & Cirrus DT 5220
* Zero Client Desktops With Quad Display - Cirrus TZ-204L
* WiFi Zero Client Desktops with Dual Display - Cirrus DT WiFi & Cirrus DT 5230
* Zero Client Laptops - Cirrus LT & Cirrus LT Plus
We encourage you to visit Booth 203 today through Wednesday to learn more about NCS solutions that are fully tactical ready, deployable and as rugged as you need. To learn more about the Defender E-Tools Cabinet solution, please go to: http://www.ncst.com/sites/default/files/pdf/NCS%20ETools.pdf
Today you can learn more about NCS zero clients solutions, just download our brochure.