NCS Highlights Cirrus Solutions for Healthcare and Government
The HIMSS Global Health Conference & Exhibition in Orlando is open. HIMSS is the premier healthcare event of the year, where professionals throughout the global health ecosystem connect for the education, innovation and collaboration.
The NCS Technologies Booth is #6759. At the booth NCS is showcasing a wide variety of healthcare-relevant solutions from NCS, HP, HP's IT virtualization brand Teradici, LG and Ergotron.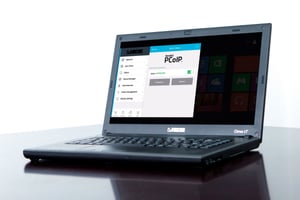 NCS is putting the spotlight on its Cirrus Notebook and Desktop endpoint virtualization solutions that are secure, cost effective and easy to use and administer. Maintaining strong security policies remains extremely important in healthcare and government.
Over the past six years, our desktop and laptop virtualization solutions have been recognized for their strong security and effortless portability. NCS devices powered by HP Teradici software help IT managers maintain security and save money.
NCS and HP Teradici are Perfect for Endpoint Security
IT managers understand that PCs used in in the office, around a hospital or other medical facility, and remotely on travel or in the home, are often vulnerable to security breaches. For many administrators, using zero clients is an excellent strategy to address security concerns. NCS Zero Clients are managed by VMware Horizon software and use the ultra-secure HP Teradici PCoIP remote display protocol.
NCS Zero Clients have no local OS. The operating system resides in the data center. Therefore, there is no persistent user data, no patches, updates or antivirus software needed. Security concerns are addressed within the data center. Of the various ways to virtualize at the endpoint, zero clients prove to be a highly effective option. PCoIP is a high performance computer display protocol used in endpoint VDI. PCoIP from HP Teradici uses advanced compression to provide end users with rich content from the cloud or data center. PCoIP securely delivers applications or workspaces to the endpoint by compressing and encrypting pixels. More than 15 million VDI endpoints use HP Teradici's PCoIP.
More HP Solutions On the Booth
HP THIN CLIENTS - HP's portfolio of thin clients are another way to deliver highly secure premium experiences with comfortable designs, serviceability, and productive connectivity. With HP Cloud Endpoint Manager you can easily deploy, update and manage your fleet while relying on built-in security, real-time device monitoring, and policy-based management.
With HP Thin Clients, choose from a variety of positions and mounting options to fit compact spaces. Ensure your fleet is equipped for productivity with configurable ports and an optional DisplayPort over USB Type C with power delivery. At the booth NCS is showing the HP t740 Thin Client with Windows 10.
HP PCs - Also at the booth visitors may try out the HP Zbook Power G8 and the HP Elitebook 840, both IT workhorses in the healthcare computing environment. The HP Zbook Power G8 Mobile Workstation PC delivers professional performance and security with unbelievable affordability. Work all day, anywhere. Take multitasking to the next level, with a mobile workstation certified to run your pro apps at peak capacity. Battery life lasts up to 12 hours.
For information on any of the products and solutions on the booth, or to set up a meeting, please call Matt Cooke at 540.604.3710.
For more information on NCS Zero Client solutions, please go here: https://www.ncst.com/products/categories/zero-clients