NCS NexServ XRG series now supports Intel's latest Xeon E5-2600 V4 series processors, formerly known as Broadwell-EP. The Broadwell architecture is based on 14nm process rather than Haswell's 22nm process, which improves power consumption and performance, and as a result Broadwell-EP processors scale up to 22 Broadwell cores into the same package and power envelope. Broadwell-EP is socket compatible with Haswell-EP, so Broadwell Processors will be drop in replacement for the same XRG series servers which support Haswell-EP processors.
Generational Comparison (DP Servers)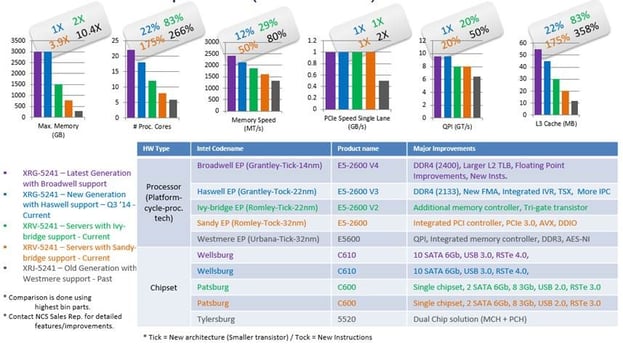 NexServ Is Your Best Choice
NCS NexServ Series Server solutions deliver greater performance, efficiency and security for cloud and other virtualization needs, hosting and application delivery, database processing and storage, simulation and automation applicaitons. The NexServ XRG Series is available in IU and 2U rack mount server form factors.
To learn more about the NCS NexServ XRG Series, please go to http://www.ncst.com/content/server-solutions