NCS and HP Terradici Strong Security Solutions for Government
NCS Technologies features Cirrus Notebook and Desktop endpoint solutions that are secure, cost effective and easy to use and administer. Maintaining strong security strategies at the desktop remain extremely important in government markets.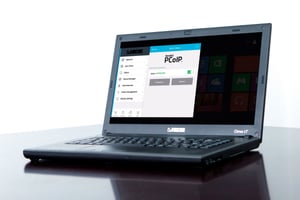 Customers depend on NCS desktop and laptop solutions for their strong security and portability. These products powered by HP Teradici software help IT managers maintain security and save money.
The Focus on Endpoint Security
IT managers understand that work PCs used in in the office and remotely can be too vulnerable to security breaches. For many administrators, using zero clients is the best solution to close the security gap. NCS Zero Clients are managed by VMware Horizon software and use the ultra-secure HP Teradici PCoIP remote display protocol.
NCS Zero Clients have no local OS. The operating system resides in the data center. Therefore, there is no persistent user data, no patches, updates or antivirus software needed. Security is addressed within the data center. Of the various ways to virtualize at the endpoint, zero clients prove to be a highly effective solution. PCoIP is a high performance computer display protocol used in endpoint VDI. PCoIP from HP Teradici uses advanced compression to provide end users with rich content from the cloud or data center. PCoIP securely delivers applications or workspaces to the endpoint by compressing and encrypting pixels. More than 15 million VDI endpoints use PCoIP.
To manage virtualized endpoints, NCS recommends the HP Teradici All Access Plan.
For information on all our products or to set up a meeting, please contact Matt Cooke at sales@ncst.com or submit the form below. For more information on NCS Zero Client solutions, please go here: https://www.ncst.com/products/categories/zero-clients