NCS Technologies packages sophisticated rugged and easily deployable IT infrastructure to support any need to rapidly deployment to the field.
Rapid and flexible response with the right IT infrastructure is the key.
This is paramount for the military, for civilian agencies responding to emergency situations, as well as first responders, and even industry, such as oil and gas and utility companies working in very harsh environments.
With deployable NCS Rugged and Mobile Infrastructure Solutions, NCS has packaged super reliable IT infrastructure capability to meet practically any need.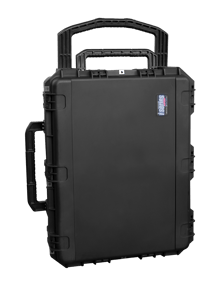 Rugged Servers
NCS has designed two high performance rugged servers that easily fit into rugged transit cases for deployment into harsh conditions. The NexServ RS100 1U and NexServ RS210 2U both come with advanced systems management and redundancy options, and are efficient, scalable and powerful. They are engineered to fit into tight spaces and serve in harsh conditions. For specific mobile needs NCS also recommends the Getac X500 Ultra-Rugged Server platform, a third generation briefcase-size, COTS rugged server that provides quick deployment for emergency, disaster and temporary set-up environments
Rugged Convertible
When flexibility is paramount, the Getac V110 Fully Rugged Convertible fits the bill. It is a compact and lightweight and quickly transforms from an 11.6 inch display notebook to a tablet computer. In the field this flexibility can be very handy when the immediate need for a mobile tablet presents itself.
Rugged Notebooks
In most deployments rugged laptops are a must. The Getac S410 Semi-Rugged Notebook delivers strong performance, security and durability in a thin form factor. Experience the fast 8th generation Intel i7 processor, airtight security tools with multi-factor authentication and customization features to fit any workflow - all engineered into a thinner, more durable design.
Getac's B300 remains very popular in the field. It delivers high performance, security and long battery life. The notebook has one of the brightest displays in the industry and offers 4G LTE wireless. The B300 is Getac's most popular model and performs in some of the most extreme conditions around the world.
If Virtualization is Required
In specific military or intelligence applications, virtualization may be desirable. NCS offers a full portfolio of zero client end points based on the PCoIP protocol. If your deployable situation calls for virtualization in the field for security or convenience, NCS delivers. NCS has the industry's only mobile notebooks, the Cirrus LT and Cirrus LT Plus, that fit into customized transit cases and delivers simplicity, scalability and security.
Learn more about our deployable portfolio!