It makes sense that data security is of vital importance in the financial sector. After all, financial data is among the most sensitive type of information that businesses possess, and is probably the most desirable information to would-be hackers. Companies that work with financial data are responsible for protecting this information- and failing to properly do so can have potentially disasterous outcomes for the business and its customers.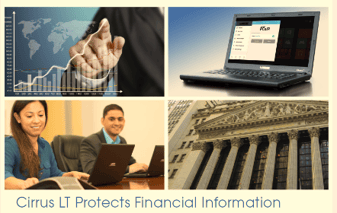 It is a huge risk for a company to potentially compromise client financial information by settling on mediocre data protection methods. At best, a breach in a financial servicers company can result in strained business relationships and mistrust, and at worst can even mean the loss of an account or partnership. Furthermore, many businesses are unaware of the potential legal ramifications of inadequate data protection practices. Laws like the Sarbanes-Oxley Act (2002) require that businesses keep financial records at least five years, which can seem like a daunting task to a privacy-conscious company operating in today's world of cyber-attacks and hacking scandals.
Of course, any responsible business places a large emphasis on customer service and delivering the best service possible to the client, as quality customer service is imperative to running a successful and trustworthy company. The obvious question then becomes "what is the best method of data protection in the financial sector?" Consider the zero client computer.
One of the most promising approaches involves protecting sensitive information with VDI technology called zero clients at the desktop or laptop. Workers in the financial sector are constantly accessing sensitive records. Zero clients, sometimes referred to as thin clients, enable workers to comply with privacy protection regulations such as the Sarbanes-Oxley Act by restricting the ability to download and store data locally.
A zero client provides strong security on the front lines because it has no hard drive, no OS, because no persistent user data is stored and no antivirus is needed. Until now, zero client desktops were not easily moved. But today, the industry's first mobile zero client laptop is generally available. This provides businesses in the financial sector with even more versatility and convenience, while maintaining the strong security necessary for protected information.
If you would like to learn more about zero clients and how they help solve the data security problems in today's data-driven world of finance, download our brochure on Protecting Financial Information.