Booth #11625
Today is the final day for the HIMSS18 healthcare IT conference at the Las Vegas Venetian- Palazzo-Sands Expo Center. Many attendees are finding their way to the NCS Booth #11625 for deep discussions on desktop and data center technologies and solutions.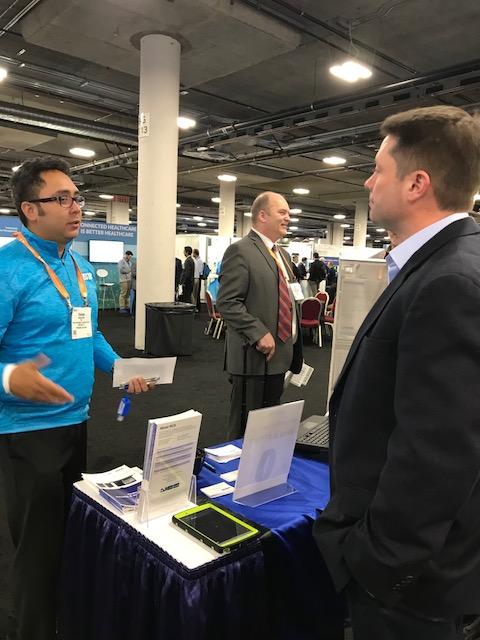 NCS is showcasing its own products and partner solutions. Highlights include:
Teradici All Access
Many NCS VDI desktop solutions are based on Teradici's PCoIP virtualization technology. With Teradici's All Access plans, you get a complete set of remote access solutions, enabling lower IT costs and reduced admin time while giving users maximum flexibility.
NCS Virtualization
NCS has a portfolio of the Zero Client desktops powered by PCoIP. At this event many folks meeting at the booth have remarked how the NCS Cirrus LT Plus notebook is perfect for use in hospitals, nursing homes and other medical facilities. The lightweight Cirrus LT l features a 15.6-inch HD display, numeric keyboard and a range of options, including webcam, WiFi, hot swappable batterieas, proximity card reader CAC reader, fingerprint reader and docking station. We have set up many future customer meetings based on the attractive features of the Cirrus LT Plus.
NCS Cirrus DT WiFi For Healthcare - and WOW
In addition, NCS features the Cirrus DT WiFi, the industry's only truly portable desktop zero client. DT WiFi is a proven hit when coupled with Workstation on Wheels (WOW). DT WiFi has exceptional network capabilities in aisles, down long corridors and in patient rooms.
HP t420 and t530 Desktop Thin Clients
NCS is also showcasing two thin clients for those applications where the IT environment relies on multiple protocols such as Teradici's PCoIP, Citrix HDX or VMware Blast Exteme. Our close partnership with HP in this case broadens our own product portfolio with additional small form factor, low-cost desktop and mobile devices. The HP t420 supports dual displays (VGA and DVI) and features 4 USB ports, WiFi and RJ45 networking connectivity. The HP t530 supports two displays via 2 DisplayPort outputs and features 6 USB ports, WiFi and RJ45 networking connectivity.
Ultra Secure Zero Clients
NCS offers a complete family of virtualized zero clients. The NCS portfolio includes:
* Zero Client Desktops With Dual Display - Cirrus TZ-202L & Cirrus DT 5220
* Zero Client Desktops With Quad Display - Cirrus TZ-204L
* WiFi Zero Client Desktops with Dual Display - Cirrus DT WiFi & Cirrus DT 5230
* Zero Client Laptops - Cirrus LT & Cirrus LT Plus
For further information, please call Matt Cooke at (540) 604-3710 or Sales VP Jeff Lodes at (703) 743-4642.
Download this brochure that answer many questions about how to virtualize as easily as possible.