NCS Booth #1336 Is the Place to Explore Additive Manufacturing
The final day of DMC 2021, the Defense Manufacturing Conference, is today at the Gaylord Rockies Convention Center, Aurora, CO.
At DMC, leaders and manufacturing subject matter experts from government, industry, and academia exchange information and perspectives on defense manufacturing policies, strategic direction and best practices.

NCS partners with leading additive manufacturing companies to deliver solutions for any need. NCS offers 3D Printing Solutions using plastic, metal, composite materials and super polymers from the leading Tier 1 vendors for the creation of prototypes and finished parts meeting nearly all requirements.
We are featuring technologies from HP, Trumpf, Roboze and nScrypt.
HP Jet Fusion Solutions
NCS is a leading seller of the compact HP Jet Fusion solutions, including the HP Jet Fusion 5200 3D printer series. NCS sells to the federal government in the continental U.S. NCS also addresses commercial, healthcare, universities and other government markets in New York, New Jersey, Pennsylvania, Delaware, Maryland, Virginia and West Virginia.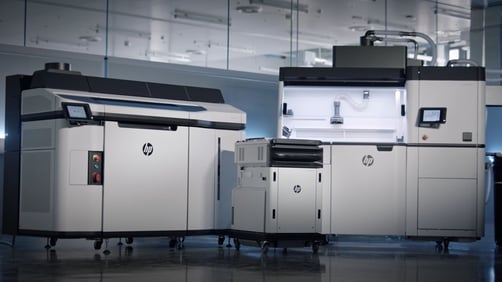 HP Jet Fusion 5200 Printing - This solution is ideal for mid-volume production environments. The Jet Fusion 5200 enhances manufacturing predictability. Get quality from fine detail and sharp edges to textures and optimal yield at industrial-level OEE. Produce functional parts with best-in-class isotropy with the latest generation of HP Multi Jet Fusion systems.
Trumpf TruPrint 3D Printing Solutions
NCS resells Trumpf's additive manufacturing solutions throughout the U.S. NCS puts a deep focus on the TruPrint 2000, which offers a unique combination of process speed and build volume for a broad range of users.
Roboze Additive Manufacturing Solutions
NCS partners with Roboze, a world leader in industrial additive manufacturing systems, specifically specializing in super polymers and composite materials. The partnership with Roboze allows NCS to address new markets where safety and reliability are paramount, such as aerospace, industrial and medical devices applications.
Roboze solutions use super polymers and composite materials for the creation of finished parts where failure is not an option. Super polymers may replace metal parts because they are highly resistant to chemicals and corrosion, lightweight, and are electrically insulating. Roboze systems have proven to be ideal for use in aerospace, medical, oil and gas and electronics applications.
nScrypt Additive Manufacturing Solutions
nScrypt is revolutionizing how, where and what can be manufactured.
3D printing is one important process of manufacturing. nScrypt's exceptional precision and volume control can solve a chronic weakness: part repeatability within tight tolerance. Drawing from the largest palette of commercially available materials, you can use the SmartPump™ and nFD™ Material Extrusion tool heads to combine plastics, metals, ceramics, and composites in single builds with exceptional tolerance and control. When combined with Milling (nMill), Pick-and-Place (nPnP) capabilities and 6 Axis printing, you get a whole new capability to manufacture.
Please come to NCS Booth 1336 to learn all about these exceptional additive manufacturing solutions from HP, Trumpf, Roboze and nScrypt.
At the booth are additive manufacturing experts Joe Andrews and Kyle Stromberg. For an appointment or for more information please call Joe at 703.743.8512; or reach out to Kyle at 571-405-1059.
To learn more about NCS and 3D printing, please go to this link: https://www.ncst.com/products/categories/3d-printing
Download the 3D printer solutions brochure