Transforms Into Portable Rugged Server
The Durabook Z14I Expansion Box, which is sold by NCS to government agencies and the military, is one of the most powerful enhancements to the Durabook Z14I Rugged Laptop, converting it from a traditional rugged laptop to a portable rugged server.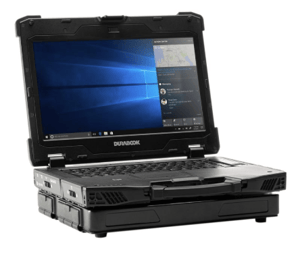 The PCIe x 4 and PCIe x 1 slots allow for simple field installs that deliver additional I/O ports, RAID configuration, video & audio PCIe enhancement options and more. The expansion box, adding just 1.98 lbs, creates a secure private network capability for your users in the field while maintaining its MIL STD 810G and IP65 compliance.
To learn more from our website about other Durabook solutions that we sell and support, please click here: https://www.ncst.com/products/categories/rugged-laptops-tablets
On the Durabook website, more information can be found under Accessories, linked here: https://www.durabook.com/us/products/z14i-laptop/
For immediate information, please contact Erin Dunn at 571-465-7737.