Durabook Has Complete Rugged Computer Solutions
NCS sells Durabook solutions to government, military and commercial markets. Durabook offers a wide product selection of rugged laptops and rugged tablets.
Consider the Durabook S14I Laptop, which pushes semi-rugged devices to the next level.
It is built with Intel® 11th Generation CPUs and has a class-leading 4' drop spec/IP 53 rating. The S14I is engineered to combine military-grade durability, field-worker functionality, high performance, and long battery life for non-stop use, making it suitable for use in locations where rain or dust may be a regular occurrence.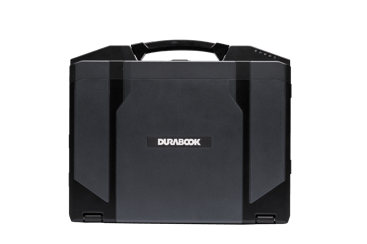 The S14I features a significant CPU upgrade with Intel® Tiger Lake 11th generation platform, using Intel's 10nm processor technology. This device comes with integrated Intel® Iris Xe graphics, and for professionals who use intensive graphic computing, it can be upgraded to an optional standalone NVIDIA GeForce® GTX1050. With the ultra-high-speed data transmission capability of Intel Wi-Fi 6 AX201 with max. speed of 2.4Gbps and Bluetooth® V5.2, all information is instantly synced and fed back to the data control center.
Durability and Security
The S14I is built with a robust mechanical design and rigorously tested components. It meets the standards of MIL-STD-810H; withstands up to a 4-foot drop; and boasts an IP53 rating. This tough yet elegant rugged laptop breaches the boundary between semi-rugged and fully-rugged devices.
It now includes Windows Hello encrypted biometrics, a more secure, user-friendly and faster way of accessing Windows® OS. The S14I semi-rugged platform is finding significant success in commercial markets, such as power/utilities, and in the military sector, including the U.S. Army and Air Force.


Other exciting Durabook products include:
The Z14I Rugged Laptop
Combined with the latest 11th Generation Intel® Core™ processor and Iris® Xe graphics capabilities, the Z14I rugged laptop can handle data intensive tasks at speed. It has been built to withstand even the harshest of environments. Its IP65 rating, protecting against dust and water ingress, MIL-STD 810H certification and resistance up to six feet drop make the Z14I more rugged than other comparable devices on the market. The device has also been tested for explosive atmosphere, solar radiation, salt fog, and fungus resistance, which goes beyond testing standards compared to other rugged devices in its class.
The Z14I includes Durabook's proprietary DynaVue® technology and high-definition multi-touch screen, offering the highest contrast ratio, which helps to eliminate internal reflections that enhance viewing clarity even from different angles, and in bright sunshine or low light conditions.
R8 Rugged Tablet
Combining the mobility and flexibility of its pocketable form with a business-focused design, the R8 fully rugged tablet offers a unique combination of revolutionary computing power, rugged features and high portability to withstand the most challenging environments.
Powered by Intel® 12th Generation processors, it is designed for professional operations close to the edge, where it is needed most. R8 features an 8" LCD display with Durabook's proprietary DynaVue® technology for an exceptional viewing experience even in direct sunlight.
Weighing in at just 1.9lbs, the Durabook R8 sports a fanless and yet versatile expansion design for ultimate functionality.
Its IP66 rating, six-feet drop resistance, MIL-STD 810H and ANSI/UL C1D2 certifications make the R8 more rugged than other comparable devices on the market, making it the most reliable mobile device to support digital and remote operations for all kind of professional applications.
Durabook has upgraded its U11 Rugged Tablet with the 12th Gen Intel® processor and other architectural innovations that establish it as the most versatile 11-inch rugged tablet. The U11 rugged tablet solution goes above and beyond standard requirements to elevate the professional user's experience.
R11 Rugged Tablet
Designed for the harshest environments, the R11 is the world's most compact 11.6" tablet in the fully-rugged class, weighing only 2.65lb and measuring just 0.79″ thick. Its smooth, streamlined exterior and neat form complement its tough image, guaranteeing optimum operational performance in every situation.

Featuring 12th Gen Intel® Core™ processor, a IP66 design and 4-feet drop protection, it is engineered to offer the best blend of functionality, performance and reliability for maximized efficiency of today's professional workforce.
The Intel® 12th Generation processors with Intel® Iris® Xe graphics deliver outstanding performance and visuals via its neat, compact form. Plus, the high-speed data transmission capability of Thunderbolt™ 4, Intel® Wi-Fi 6E and Bluetooth® V5.2 provides smooth, congestion-free processing at all times.
For More Information
To learn more about these and other Durabook solutions, please click here:
https://www.ncst.com/products/categories/rugged-laptops-tablets
For more information, please contact Erin Dunn at sales@ncst.com