It Is the Thinnest and Lightest in It's Class
NCS sells Durabook solutions to government, military and commercial markets. Durabook offers a wide product selection of rugged laptops and rugged tablets.
Consider the Durabook S15. With its 12th Generation processors, Durabook S15 offers the perfect blend of best-in-class performance, mobility and reliability, compared to commercial rugged laptop competitors.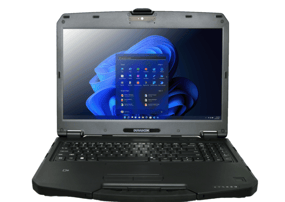 Featuring a 15.6" Full HD DynaVue® sunlight readable display, it also boasts a 98-key membrane keyboard with a dedicated numeric keypad for an enhanced visual and typing experience. Designed with a 1.16"-thin profile and a weight of just 5.63 lbs., the S15 is certified with four-foot drop resistance, IP5X and MIL-STG-810H.
Additionally, extensive premium connectivity options of the highest specification, long-life battery up to 12 hours and an ergonomic hard handle for easy carrying make the S15 the ideal business laptop for field workers and professionals in both indoor and outdoor environments.
Thinnest and Lightest in It's Class
Running on Intel® 12th Generation CPUs, the S15 redefines the rugged laptop in its class. With mobility and high durability in mind, the S15 features a lightweight design with a 1.16"-thin profile and a weight of just 5.63 lbs. It can withstand a 4-foot drop and is certified with IP5X and MIL-STD-810H for reliability in the field.
The S15 comes with a 15.6" Full HD (1920×1080) DynaVue® sunlight readable display of up to 1,000 nits that reveals every visual image detail at a glance. Featuring Intel® Iris® Xe graphics, it delivers speed, efficiency and the discrete-level graphics that mobile professionals demand. With the option of a dedicated NVIDIA® Quadro T1000, the S15 can be transformed into an ultimate solution for specific tasks, such as graphics rendering and CAD applications.
For More Information
To learn more about the S15 Rugged Laptop and other Durabook solutions, please click here:
https://www.ncst.com/products/categories/rugged-laptops-tablets
To speak to an NCS expert, please contact Erin Dunn at sales@ncst.com