Meet Us at NCS Booth #2005
The Eastec 2021 Manufacturing Technology Series is now open at the Eastern States Exposition, West Springfield, MA. Please join us at Booth #2005 to preview HP Additive Manufacturing Solutions.
NCS is a leading seller of the compact HP Jet Fusion solutions, including the HP Jet Fusion 5200 3D printer series. NCS sells to the federal government in the continental U.S. NCS also addresses commercial, healthcare, universities and other government markets in New York, New Jersey, Pennsylvania, Delaware, Maryland, Virginia and West Virginia.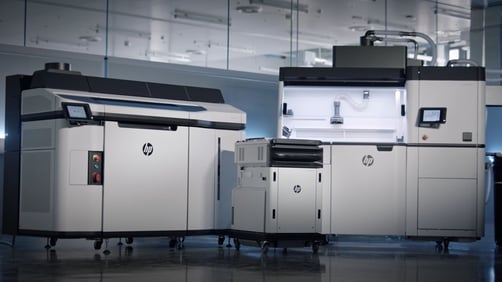 HP additive manufacturing solutions make it easy to create complex prototypes. In addition, some parts may be manufactured at lower cost. The combination of easy prototyping, speed to market, high quality and attractive price points all increase business flexibility.
HP Jet Fusion 5200 Printing - This solution is ideal for mid-volume production environments. The Jet Fusion 5200 enhances manufacturing predictability. Get quality from fine detail and sharp edges to textures and optimal yield at industrial-level OEE. Produce functional parts with best-in-class isotropy with the latest generation of HP Multi Jet Fusion systems.
Reduce errors, failed jobs, and unplanned downtime with HP 3D Proactive Remote Service that includes service alerts. Uniquely predictable and consistent print time for any type of part no support structures needed.
Expand into new applications and markets. Address more final part applications with new levels of repeatable accuracy and best-in-class economics. Deliver a breadth of applications for various markets with PP, PA 11, PA 12, PA 12 GB, and TPU materials today, and more in the future. Address sustainability, with lower carbon footprint parts, and HP 3D materials offering industry-leading reusability.
The HP Jet Fusion 5200 delivers breakthrough productivity and integrated software, materials mixing, and unpacking automation. Best-in-class economics and productivity (over 160,000 cmper day) for production environments. Streamlined workflow, improved process development, optimized job efficiency, and enhanced production efficiency with a consolidated dashboard that integrates data across industrial management systems. Consistent unpacking results through an automatic process with an industrial-grade solution. Streamlined workflow and HP's most economical continuous 3D printing with automated materials mixing, enclosed processing station, and natural cooling unit.
NCS is an authorized HP reseller delivering any needed services and applications expertise to maximize 3D printer performance, throughput, part quality and yield. For immediate information or a price quote, please contact Joe Andrews at 703.743.8512 or Kyle Stromberg at 571-405-1059.
Be sure to join us at Booth 2005 at Eastec through Wednesday!
To learn more about NCS and HP 3D printing, please go to this link:https://www.ncst.com/products/categories/3d-printing/hp
Download the 3D printer solutions brochure