WFH Requires Powerful, Secure Computing Foundation
While the Federal Government encourages vaccination as the key action to end the pandemic, Work from Home continues as a popular choice for many in all levels of government and in many commercial and non-profit work situations. Teams working remotely require a powerful, secure and durable notebook that connects easily to promotes productivity. Many are meeting the demands of the multi-task, multi-place workday with the HP EliteBook 850. NCS sells many EliteBooks to Federal Government Agencies. HP and NCS recommend Windows 10 Pro for EliteBook users.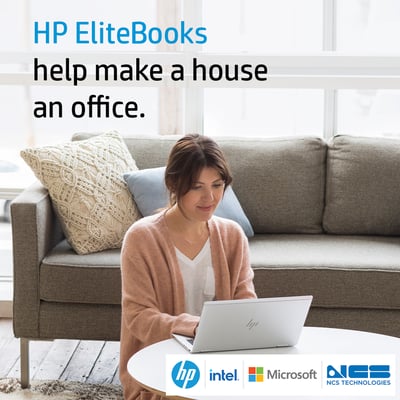 The HP EliteBook 850 is built for how you work with a new AI-based audio experience. This easy to carry ultralight and thin business PC comes with an 85 percent screen-to-body ratio and a quiet and comfortable keyboard.
Security features from HP work together to create an always-on, always-acting, resilient
defense. From the BIOS to the browser, above and below the OS, these constantly evolving solutions help protect your PC from threats.
Get the exceptional combination of responsive performance, connectivity and speed with an optional quad-core 11th Gen Intel® Core™ vPro® processor that lets you launch, create, and connect fast and reliably.
For More Information
For more information about HP EliteBook solutions, please call Jeff Tiede, Director, Federal Sales, 703.819.0515, go here: https://www.ncst.com/products/hp