Today is Final Day: Please Visit NCS Booth 1319
NCS Technologies is exhibiting at the Pack Expo East trade show through today at the Pennsylvania Convention Center in Philadelphia. All week NCS has showcased additive manufacturing solutions from HP, and also highlighted products from our other partners: Trumpf, Roboze and nScrypt.
Pack Expo East is one of the largest trade show events of its kind and is an efficient way to explore the latest advances in packaging technology, such as additive manufacturing. The exhibition targets important industries including industrial/household chemical, food and beverage, life sciences, cosmetics/personal care and other packaged goods.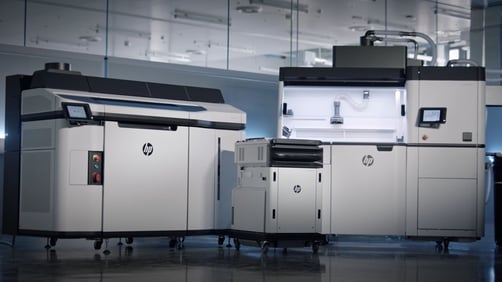 NCS' primary emphasis of the show this week has been highlighting the industrial capability of HP Jet Fusion additive manufacturing systems, in particular as they print dense, air tight/water tight parts that are ideal for End of Arm Tooling, jigs and fixtures, as well as end-use parts for customers, said Joe Andrews, NCS Director, 3D Print and Services.
"3D Print is seen as a solution to supply chain issues when, for example, a small part that is vital to the operation of the assembly line breaks and can't be sourced for months," Andrews said. "Additive manufacturing gives you the ability to quickly print that small part yourself!"
As Andrews points out, the importance of easily accessed additive manufacturing capabilities continues to grow - especially in this difficult and complex economy stressed by the pandemic and global political crisis.
NCS sells HP solutions to the federal government in the continental U.S. With HP products, NCS also addresses commercial, healthcare, universities and other government markets in New York, New Jersey, Pennsylvania, Delaware, Maryland, Virginia and West Virginia.
HP Jet Fusion 5200 Printing - This solution is ideal for mid-volume industrial production environments. The HP Jet Fusion 5200 enhances manufacturing predictability. Get quality from fine detail and sharp edges to textures and optimal yield at industrial-level OEE. Produce functional parts with best-in-class isotropy with the latest generation of HP Multi Jet Fusion systems.
Reduce errors, failed jobs, and unplanned downtime with HP 3D Proactive Remote Service that includes service alerts. Uniquely predictable and consistent print time for any type of part no support structures needed.
For immediate information or a price quote, or a meeting today at Pack Expo Booth #1319, please contact Joe Andrews at sales@ncst.com.
To learn more about NCS and all our additive manufacturing partner solutions, please go to this link: https://www.ncst.com/products/categories/3d-printing
Download the 3D printer solutions brochure