NCS & HP Deliver Reliable and Secure Printing Solutions
NCS is an important supplier of HP Printing solutions to government customers across the country. As such, we are very familiar with the performance of Original HP Toner and Ink products. These products are relied on to work the first time, every time.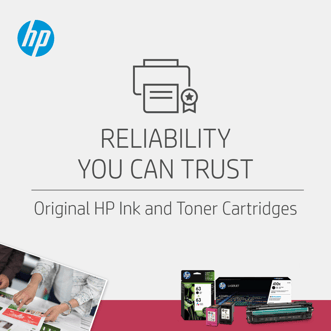 HP Print and Toner deliver precision output, page after page. And these HP solutions help you save time, every time.
Original HP Toner and Ink are easier on the environment. HP strives to reduce environmental impact. With 100% of Original HP Toner cartridges and 80% of Original HP Ink cartridges containing recycled content this is manufacturing you can trust.
Indoor air is a priority for your workplace and where you live. HP voluntarily designs and tests its printing systems to prevent emissions that exceed eco-label guidelines. When you choose Original HP Ink and Toner cartridges, you're sharing in our commitment to indoor air quality.
Original HP Office Ink and Toner cartridges are designed for security. With a protected cartridge chip, tamper-resistant packaging, and designed to work with HP office hardware security, this is printing security you can trust.
For More Information
For more information about HP print, toner and ink solutions, please contact Jeff Tiede at sales@ncst.com.