New HQ Is Expected to be Occupied in Manassas in the Summer of 2022
In a Tuesday morning ceremony with Prince William County officials, NCS Technologies, Inc. will break ground on a new 108,000 square-foot energy-efficient headquarters facility on 8.4 acres located at 9601 Discovery Boulevard in Innovation Park. The expansion, which was delayed due to the COVID-19 pandemic, marks a major milestone for the company based in Prince William County since 2002.
The installation of a new state-of-the-art manufacturing line will help NCS quadruple their manufacturing, integration and 3D printing capacity. When occupied in the summer of 2022, the facility's manufacturing line is expected to be one of the largest in the Washington Metropolitan Area.
In a prior news release, An Van Nguyen, NCS President said: "We are very excited to break ground soon on our new headquarters in Innovation Park. The tight integration of our entire business operations under one roof will enhance efficiency, foster creativity and add flexibility, agility, and velocity to our processes. We have experienced a significant expansion of our business in the past couple of years, and we look forward to many more years of growth."
Here is a view of Innovation Park in Prince William County, VA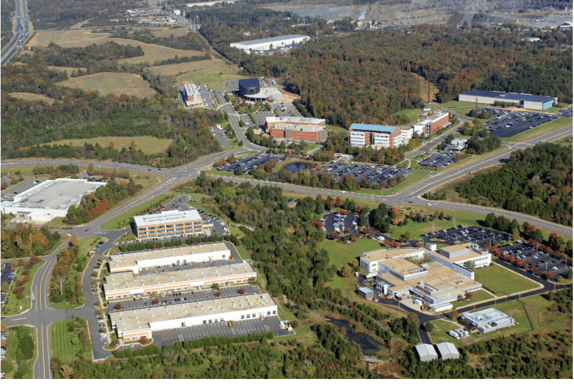 NCS along with ancillary entities employ 199 people at their current leased facilities in Gainesville and Manassas. Major customers include federal agencies, the intelligence community, and all branches of the armed services. To meet its unique and complex operational and security requirements and accommodate continued growth, NCS worked with Prince William County on the acquiring the right parcel of land in Innovation Park.
"Prince William County is one of the few places in Northern Virginia that has the infrastructure, zoning, low-operating costs, and real estate to accommodate advanced manufacturing," said Christina Winn, executive director of Prince William County Department of Economic Development. "We are excited to retain NCS while increasing jobs in the targeted industries of government contracting and information communication technology. NCS is investing $15.1 million in constructing their new headquarters, and we worked with the company to ensure they were able to purchase the land parcel in Innovation Park to best accommodate their added expansion."
"We are celebrating NCS' groundbreaking as a prime example of our County's business-friendly climate and our commitment to our community partners," said Ann B. Wheeler, Chair, Prince William Board of County Supervisors. "Our government has been intentional in ensuring the growth and success of our businesses, and I am thrilled to see the start of this important project."
"NCS Technologies is a hometown success story," said Jeanine M. Lawson, Brentsville District Supervisor. "I am excited to welcome a leader in computer manufacturing to Innovation Park. The addition of NCS showcases the variety of industries in Innovation Park and elevates the status of the Park as an innovative hub."
Officials expected to speak a the ceremony include:
Tom Flynn, Deputy Director, Prince William County Department of Economic Development
Christina Winn, Executive Director, PWCDED
Ann Wheeler, Chair-at-Large, Prince William County Board of Supervisors
Jeanine Lawson, Brentsville District Supervisor, Prince William County Board of Supervisors
An Van Nguyen, President, NCS
Here is a link to an article on WTOP: https://wtop.com/business-finance/2021/10/ncs-technologies-breaks-ground-on-new-prince-william-hq-and-manufacturing-facility/https://www.ncst.com/products/categories/3d-printing/hp