Join Us at NCS Booth #1271
The Modern Day Marine Expo, sponsored by the Defense Strategies Institute, opens tomorrow through Thursday at the Walter E. Washington Convention Center, Washington, D.C. Please join NCS at Booth #1271.
MDM is the premier military equipment, systems, services and technology exposition. View the latest Marine relevant products and solutions, as well as attend service level presentations on future operating concepts, requirements, experimentation and acquisitions objectives, and implications of the emerging operational environment.
The expo is open to Department of Defense active duty, reserve, civilian, and retired, service members and their families, as well as veteran members of the Marine Corps League and/or Marine Corps Association (the MDM Co-Host organizations), Defense Industry affiliated personnel, law enforcement, industry/consultant representatives, and invited international guests – for the purposes of MDM these are the personnel categories which delineate an "identifiable relationship with the United States Marine Corps." Registration is required for all categories of attendees, and all registrants must provide proof of identity with a government issued photographic ID for badge pick up on show site at the registration desk.
At this event NCS is focusing on additive manufacturing. NCS partners with leading additive manufacturing companies from around the world to deliver manufacturing solutions for any need. NCS offers 3D Printing solutions using plastic, metal, composite materials and super polymers from the leading Tier 1 vendors for the creation of prototypes and finished parts meeting nearly all requirements.
NCS features products from Trumpf, HP, Roboze and nScrypt.
Solutions Like the TruPrint 2000 Deliver Speed and Volume in Additive Manufacturing
The TRUMPF TruPrint 2000 is a part of a portfolio of metal additive manufacturing solutions that NCS offers for prototyping and time-to-market production. A family of TruPrint Systems deliver a unique combination of process speed and build volume for a broad range of users.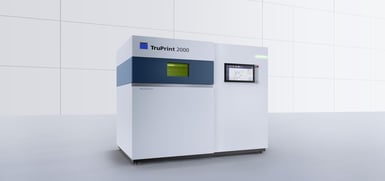 NCS Technologies is the Federal Government distribution dealer in the U.S. and does Commercial distribution and sales in the Northeastern U.S. for the TRUMPF portfolio of metal 3D printers. The quality, speed and capabilities of these systems allows us to provide solutions to our customers from industrial to medical applications.
NCS features three TruPrint solutions, the TruPrint 1000, the TruePrint 2000 and the TruPrint 3000.
HP Jet Fusion Solutions
In addition, NCS is a leading seller of the compact HP Jet Fusion solutions, including the HP Jet Fusion 5200 3D printer series. NCS sells to the federal government in the continental U.S. NCS also addresses commercial, healthcare, universities and other government markets in New York, New Jersey, Pennsylvania, Delaware, Maryland, Virginia and West Virginia.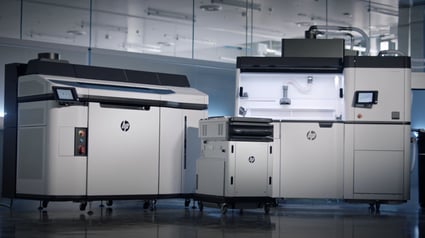 HP additive manufacturing solutions make it easy to create complex prototypes. In addition, some parts may be manufactured at lower cost. The combination of easy prototyping, speed to market, high quality and attractive price points all increase business flexibility.
HP Jet Fusion 5200 Printing - This solution is ideal for mid-volume production environments. The Jet Fusion 5200 enhances manufacturing predictability. Get quality from fine detail and sharp edges to textures and optimal yield at industrial-level OEE. Produce functional parts with best-in-class isotropy with the latest generation of HP Multi Jet Fusion systems.
Roboze Additive Manufacturing Solutions
NCS partners with Roboze, a world leader in industrial additive manufacturing systems, specifically specializing in super polymers and composite materials. The partnership with Roboze allows NCS to address new markets where safety and reliability are paramount, such as aerospace, industrial and medical devices applications.
Roboze solutions use super polymers and composite materials for the creation of finished parts where failure is not an option. Super polymers may replace metal parts because they are highly resistant to chemicals and corrosion, lightweight, and are electrically insulating. Roboze systems have proven to be ideal for use in aerospace, medical, oil and gas and electronics applications.
Roboze ARGO SERIES 350/500 3D Printers meet the needs of industrial manufacturing, solving common problems such as process repeatability, accuracy and the production of high performance polymers and materials. Argo solutions are advanced additive manufacturing systems developed to streamline production processes, save time and reduce costs. With Roboze's ARGO solutions, you can optimize the supply chain via 3D printed parts by producing finished components at scale using the highest performing, high temperature, composite materials and super polymers.
nScrypt Additive Manufacturing Solutions
3D printing is one important process of manufacturing. nScrypt's exceptional precision and volume control can solve a chronic weakness: part repeatability within tight tolerance. Drawing from the largest palette of commercially available materials, you can use the SmartPump™ and nFD™ Material Extrusion tool heads to combine plastics, metals, ceramics, and composites in single builds with exceptional tolerance and control. When combined with Milling (nMill), Pick-and-Place (nPnP) capabilities and 6 Axis printing, you get a whole new capability to manufacture.
Please come to NCS Booth #1271 to learn all about these exceptional additive manufacturing solutions. We will have additive manufacturing experts at the booth. For an appointment or for more information please contact Joe Andrews at sales@ncst.com.
To learn more about NCS 3D Printing Solutions, please go here: https://www.ncst.com/products/categories/3d-printing