PCoIP Shines in Both Virtual Desktop and Cloud Environments
Looking back at this very busy month, NCS executives spent a significant amount of time at government agencies, military bases, hospitals, at commercial establishments and participating at trade shows, promoting the ins-and-outs of desktop virtualization. At each stop we continue to find strong interest in PCoIP technology and in NCS zero client solutions, and curiosity about how they measure up against thin clients from the major PC brands.
These customers are becoming more aware every day that thin clients used for virtualization come with significant disadvanges. As they become experienced with thin clients, they are turned off that they are complex to administer. Thin clients often include a small hard drive, an embedded operating system and some memory. They are complex and expensive to use over the long run.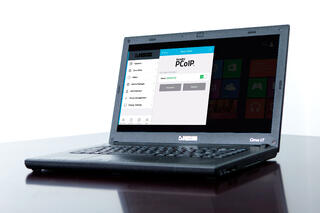 PCoIP zero clients, in contrast, use an integrated purpose-built processor (from Teradici) that does image decompression and decoding, transmitting pixels instead of data. A zero client PC does not need a general purpose CPU, local storage or an application operating system. PCoIP zero clients are secure and easy to manage and deliver low cost of ownership.
PCoIP technology from Teradici embedded into NCS Technologies virtual desktop products provide a high resolution, full frame rate 3D graphics and HD media. Device set up and management is super easy. Over time, IT costs are much lower. To get a real-world idea, just check out this handy ROI Calculator.
Customers love the NCS - PCoIP advantage:
M

obile, portable (WiFi enabled) or desktop choices

NSA Suite B security

AES-256 encryption

No hard drive

No OS

No local storage

No persistent user data

No antivirus needed
Resolve to Move to NCS Technologies PCoIP Zero Clients
We offer a solution for every need. The portfolio includes:
Cirrus LT - The industry's first zero client notebook PC
Cirrus LT Plus - A larger display, full keyboard and exciting options
Cirrus DT WiFi - A desktop with industry-leading portability and manageability
Cirrus TZ-202L - A desktop supporting up to two displays
Cirrus TZ-204L - A desktop supporting up to four displays
To learn more about our virtualization solutions, please download this brochure