Visit NCS Booth 2049
NCS is participating in the Sea Air Space, the Navy League's Global Maritime Exposition. It is the largest maritime expo in the U.S. and attracts leaders from the Naval Services from around the world. Wednesday is the final day at Gaylord National Resort & Convention Center, National Harbor, MD. NCS booths are spaces span 2049-51.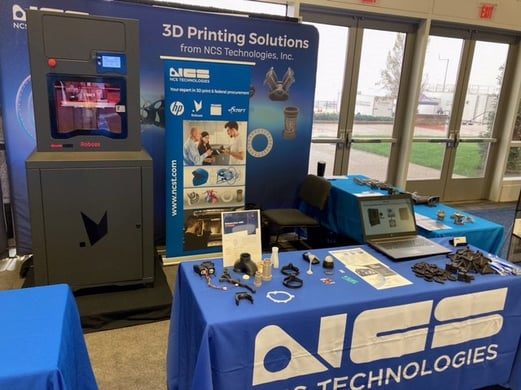 NCS has two focuses at Sea Air Space: Rugged Server and Storage Solutions from NCS and Additive Manufacturing Solutions (3D Printing) from the world's leading vendors (Roboze, HP, Trumpf and nScypt).
Rugged Mission Systems Servers & Storage Solutions
Since 2009, NCS has designed and manufactured rugged compute and storage systems for the U.S. military, the oil and gas industry and other commercial applications. Our products are designed and manufactured to meet customer unique requirements, and also for general market demands for rugged server and storage solutions that are capable of withstanding harsh and challenging environmental conditions. NCS employs electrical, mechanical and software engineers all under one roof in northern Virginia who are capable of solving any rugged server and storage challenge.
Our capabilities include in-house electrical, mechanical and environmental testing capabilities. Robotic-assisted manufacturing processes deliver consistent quality at reduced costs. In-house additive manufacturing resources help us meet the most challenging customer objectives.
NCS is committed to industry-leading implementations of SWaP-C principles, to deliver rugged server and storage solutions optimizing size, weight, power with reduced costs. We are a leading supplier of compute and storage systems in the most challenging applications for the U.S. government.
Our products are custom designed around COTS technologies. NCS products incorporate cyber resilient technology to meet all requirements for cybersecurity. All products meet or exceed typical MIL-STDs for ground, vehicles, shipboard, and subsurface.
At the booth, NCS experts are discussing our forthcoming NCS branded RMS-1016 high density, short depth "All Flash" storage platform with front I/O and innovations in embedded cyber resilience.
Leading Additive Manufacturing Solutions
NCS partners with leading 3D printing companies from around the world. NCS offers 3D printing solutions using plastic, metal, composite materials and super polymers from a range of vendors for the creation of prototypes and finished parts meeting nearly all requirements.
At the booth, NCS is showcasing the Roboze One + 400 XTREME printer. Roboze has designed the One + 400 Xtreme to make functional prototyping and parts production with super polymers and composites possible directly on-site while supporting the customer at every stage. Roboze One + 400 Xtreme reaches high temperatures. The printing bed, with a volume of 11.8x9.8x8.7 in (300 x 250 x 220 mm-xyz), reaches temperatures on the bed up to 302°F (150°C) which, together with the vacuum technology, guarantees stability and perfect adhesion of the printed components throughout the process.
We also have 3D Print parts on display from our partner Trumpf. In addition, NCS features information on all HP and nScrypt 3D printing solutions.
For More Information or To Set Up a Meeting at the Booth
For more information or to set up a meeting at the booth please contact NCS at sales@ncst.com.
To learn more about NCS Rugged Servers and Storage solutions please go to: https://www.ncst.com/products/categories/rugged-servers-overview
To learn more about NCS Additive Manufacturing solutions please go to: https://www.ncst.com/products/categories/3d-printing
National Harbor is conveniently located just off the Beltway at the foot of the Woodrow Wilson Memorial Bridge in Maryland. We hope to see you at Sea Air Space today or tomorrow!