NCS Technologies is offering office notebooks, mobile workstations, and a network slate tablet under AFWay Client Computing Solutions (CCS-2) Blanket Purchase Agreement, Covid-19 Specialized Specialized Order, to promote telework in the Air Force. The products were awarded in several categories and require no additional actions from the buyer as the Best Value Selection and Determination have already been accomplished by Air Force Information Technology Commodity Council (ITCC).
Network Slate Tablet Category - Durabook R11, Fully Rugged
Every inch and detail of the Durabook R11 is designed to maximize the efficiency of professional field workers. The Durabook R11 is only 0.79″ in height and weighs just 2.65 lbs, making it the world's most compact tablet in the fully-rugged class. Adding to its appeal is a smooth, streamlined exterior that complements its tough image.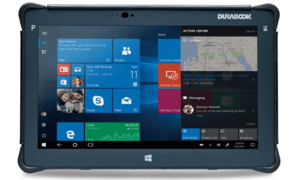 Mobile Workstation Category - Lenovo ThinkPad P53, Performance & Storage
Powerful Intel® processing and NVIDIA® Quadro® graphics
15.6" mobile workstation
All the security you need
Delivers epic performance with tons of storage on board
Fastest WiFi ever and VR-Ready
Great for engineers, designers and demanding office workers
Mobile Workstation Category - Lenovo ThinkPad P73, Most Powerful
Most powerful ThinkPad ever
Lenovo's most powerful 17.3" mobile workstation
Premier Intel® processor performance
Powerful NVIDIA®

Quadro®

RTX graphics
Tackles the most demanding workflows
Office Notebook Category - Lenovo ThinkPad L590, Built for Business
15.6" business-ready laptop, up to a 12-hour battery life
Seamless performance
Secure and durable
Versatile-whether at your desk, and on-the-go
For more information on products on this contract, please contact Renee Schnurr at 571-375-4033.
For more information on Air Force contracts held by NCS, please go here: https://www.ncst.com/customers/air-force-customers
Or here: https://www.ncst.com/content/QEB2014A