Low Latency and Maximum Throughput for High-Transaction Workloads
Ultrastar NVMe series SSDs enable faster intelligence and access to critical data. They meet the growing digital demands of business applications.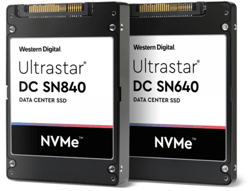 New NVMe Ultrastar DC SN840 SSDs deliver extreme performance and ultra-low latency to the top tier of enterprise storage. With proven dual-port NVMe architecture, these drives are best suited for highly demanding platforms including HPC servers, mission-critical applications and workloads that require superior read/write performance and low latency.
Mainstream NVMe Ultrastar DC SN640 SSDs are optimized for consistent quality of service and low latency for mixed random read/write workloads commonly generated by top enterprise applications such as virtualization, OLTP, NoSQL, web servers, file servers and mail servers. Ultrastar DC SN640 enables a seamless transition from SATA SSDs, delivering high performance for deeper insights and faster results for today's data intensive applications.
Highlights
Performance and Mainstream NVMe SSDs
Capacities up to 15.36TB1 in U.2 2.5" form factor
High-performance PCIe Gen 3
96-Layer 3D NAND for Ultrastar DC SN840, DC SN640 and DC SN340
Up to 780k random read IOPS3
Dual-port high availability for Ultrastar DC SN840, DC SN200
Ideal for common enterprise mixed-use workloads
Enterprise-class reliability rating, 2.5M hour MTBF5
Applications and Workload
Cloud and Hyperscale computing
Online transaction processing (OLTP)
Online analytical processing (OLAP)
Virtualization
Storage Arrays
Storage Servers
SQL Servers
Pattern Recognition
Artificial Intelligence
Machine Learning
For More Information
For more information about Ultrastar NVMe Series SSDs, please go here: https://www.ncst.com/products/hgst/sn840-enterprise-solid-state-drives