Cyber and Information Security Research Conference
NCS is right in the middle of the security discussions at the Oak Ridge National Laboratory's 12th annual Cyber and Information Security Research Conference (CISRC). CISRC brings together cyber security researchers, program managers, CIOs, CISOs, decision makers, practitioners and vendors to discuss the challenges and solutions pertaining to cyber security. This event is the largest DOE/National Laboratory technology gathering to take place onsite at a government facility each year. Personnel and leaders come together from the National Laboratories, Department of Energy, NSA, Department of Homeland Security and the Cyber Sciences Laboratory. It's a great opportunity to see what technology the government wants to invest in, and for industry participants to forge partnerships with government IT and purchasing leaders.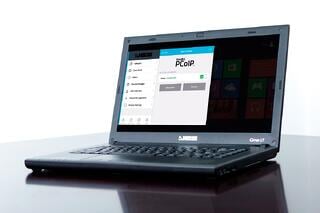 NCS is a long-term supplier of innovative, secure computing solutions to the government. At CISRC, NCS is showcasing solutions that include SecureView virtualized workstations and desktops, and the Cirrus family of virtual zero client end point devices.
SecureView is a low-cost, multiple-independent-levels of security workstation-based technology which allows a single computer to host multiple guest VMs running at different classification levels. NCS is the leader in providing SecureView desktops to the government.

Ultra Secure Zero Clients Are Perfect for the CISRC Audience
NCS offers a complete family of virtualized zero client PCs to the government and is demonstrating them at CISRC. The NCS portfolio includes:
* Zero Client Desktops With Dual Display - Cirrus TZ-202L & Cirrus DT 5220
* Zero Client Desktops With Quad Display - Cirrus TZ-204L
* WiFi Zero Client Desktops with Dual Display - Cirrus DT WiFi & Cirrus DT 5230
* Zero Client Laptops - Cirrus LT & Cirrus LT Plus
We encourage you to visit the NCS table through Thursday and talk to Lauren Mayoral about NCS zero clients and our SecureView portfolio. To quickly learn more about NCS and SecureView, please read this short blog: http://blog.ncst.com/secureview-multi-domain-0-0
Today you can learn more about NCS zero clients solutions, just download our brochure.