Part 2 Of A Multi-Part Blog Series
As I mentioned in Part 1 of this blog series, when a company expresses the intent to move toward virtualization, it is wise to ask them if they have a list of users and type of users that they intend to virtualize.
The questions quickly pop up, including what type of worker do you recommend we start with on the way to full virtualization? In the first blog l discussed the differences between a deployment with Persistent Desktops versus Non-Persistent Desktops. Today I'm here to talk about Linked Clones versus Full Clones
LINKED CLONES VERSUS FULL CLONES:
Received from VMware's Support resources (https://www.vmware.com/support/ws5/doc/ws_clone_typeofclone.html)
A Full Clone is an independent virtual machine, with no need to access the parent. A Linked Clone must have continued access to the parent. Without access to the parent, a linked clone is disabled.
A Linked Clone is made from a snapshot of the parent. In brief, all files available on the parent at the moment of the snapshot continue to remain available to the linked clone. Ongoing changes to the virtual disk of the parent do not affect the Linked Clone, and changes to the disk of the Cinked Clone do not affect the parent.
BENEFITS OF FULL CLONES:
Full Clones do not require an ongoing connection to the parent virtual machine. Overall performance of a Full Clone is the same as a never-cloned virtual machine, while a Linked Clone trades potential performance degradation for a guaranteed conservation of disk space. If you are focused on performance, you should prefer a Full Clone.
BENEFITS OF LINKED CLONES:
Linked Clones are created swiftly. A Full Clone can take several minutes if the files involved are large. A Linked Clone lowers the barriers to creating new virtual machines, so you might quickly and easily create a unique virtual machine for each task you have.
Another benefit of Linked Clones is that they are easier to share. If a group of people needs to access the same virtual disks, then the people can easily pass around clones with references to those virtual disks. For example, a support team can reproduce a bug in a linked clone and then just email that linked clone to development. This is feasible only when a virtual machine isn't gigabytes in size.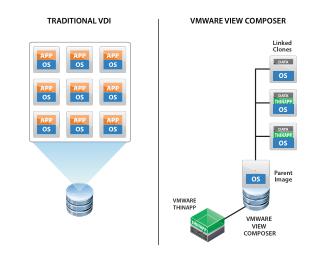 VIRTUAL DESKTOP CONFIGURATION:
Recommendations from VMware's Horizon View Architecture Planning Guide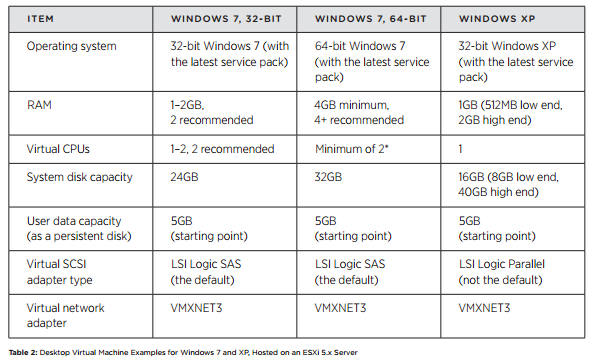 On the next blog I will discuss Kiosk Workers.
An important part of of the virtual users experience is obviously the user device. One of the most important advances in virtualization recently is the availability of mobile zero client technology. To learn more, please consider downloading our White Paper on the NCS Cirrus LT Zero Client Laptop.