Users Ponder the Alternatives
The one-day VMware expo Carolina VMUG UserCon is now over, having attracted hundreds of attendees in Charlotte yesterday. NCS staff attending the show met with nearly everyone and report that attendees were very interested in NCS virtual desktop solutions. As expected at VMUG events, sophisticated VMware users expressed hard requirements for improving manageability, driving down cost of ownership and improving security. In all of these metrics, zero clients from NCS Technologies outperform thin clients from the Tier One PC vendors.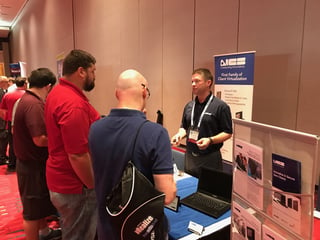 An underlying thread to many of the discussions was an interest on the best remote display protocol to implement. Users are aware of choices including Remote Desktop Protocol, PCoIP, Blast and HDX. For the VMware environment, many agreed that RDP, HDX and Blast lacked the fuctionality required to deliver the full PC experience, and the consistency and manageability IT managers prefer.
PCoIP Still the Protocol of Choice
It is the NCS view that the PCoIP protocol from Teradici remains the premier choice over alternatives, primarly because of its proven manageability, iron-clad security and the overall PC experience - even in challenging high definition environments.
PCoIP transfers the image of software running in the data center to any PCoIP end point (zero client). Because the protocol transfers images only, in the form of pixel location information, it's super secure - no secrets or personal data or business information ever leaves the data center. The PCoIP security module leverages the AES 256 and NSA Suite B cyphers, which meet the highest level of security required by governments.
In applications requiring higher bandwidth, PCoIP shines over the competition. If bandwidth becomes variable, competing protocols can deliver choppy screen results. But a PCoIP client, assisted by hardware acceleration, will maintain smooth video motion by slightly varying the resolution to optimize the viewing experience.
Keep in mind the NCS - PCoIP advantage:
M

obile, portable (WiFi enabled) or desktop choices

NSA Suite B security

AES-256 encryption

No hard drive

No OS

No local storage

No persistent user data

No antivirus needed
Resolve to Move to PCoIP Zero Clients
NCS has a zero client solution for every end-user need. Our portfolio includes:
Cirrus LT - The industry's first zero client notebook PC
Cirrus LT Plus - A larger display, full keyboard and exciting options
Cirrus DT WiFi - A desktop with industry-leading portability and manageability
Cirrus TZ-202L - A desktop supporting up to two displays
Cirrus TZ-204L - A desktop supporting up to four displays
To learn more about our virtualization solutions, please download this brochure