With the New Year, journalists will soon begin to publish lists of the biggest data breaches of 2015. As the headlines will attest, every industry and sector is vulnerable and all continue to be hacked.
It is estimated that nearly every American had personal data stolen over th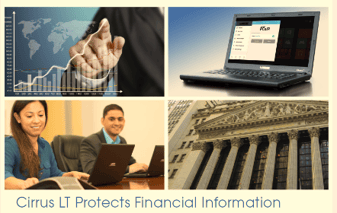 e past 24 months.
Data Security in the Financial Sector
Today's blog focuses on data security in the financial sector. Banks and credit unions, with the assistance of security companies and the very latest malware analysis tools, spend billions of dollars protecting customer information held within their data centers. But all it takes is one vulnerable portal for an attacker to hack into critical databases.
Often times the vulnerability is a single employee's PC. Banks and credit unions are necessarily focused on the public and spend a lot of time in customer-facing activities. When a laptop is not updated with the very latest security patches and OS updates, it is vulnerable to attack.
NCS Technologies is seeing a lot of interest from the financial sector in super secure zero client PCs. Why? Credit union employees, for instance, are frequently out of the office marketing their services. They need to protect their computer data while on the move.
NCS Cirrus LT Zero Client Laptop
A mobile zero client like the NCS Cirrus LT laptop provides strong security on the front lines because it has no hard drive, no OS, because no persistent user data is stored and no antivirus is needed. All critical information is held in the data center, where it can be protected by the latest security tools. This provides businesses in the financial sector with even more versatility and convenience, while maintaining the strong security necessary for protected information.
If you would like to learn more about zero clients and how they help solve the data security problems in today's data-driven world of finance, download our brochure on Protecting Financial Information.