Rugged & Additive Manufacturing Focus for Military and Commercial Applications
Please join NCS and guests at Booth 650 at the Sea Air Space Expo April 3-5, 2023. The Sea Air Space event is the largest maritime expo in the United States. It brings the U.S. defense industry and key military decision-makers together for three days of informative educational sessions, important policy discussions and a dynamic exhibit hall floor. Owned and produced by the Navy League of the United States, Sea-Air-Space attracts maritime leaders from sea services around the globe.
At this event, NCS will feature rugged server and storage solutions from NCS' Rugged Mission Systems, which provides mission-critical technologies that survive in the harshest environments. Also will also feature additive manufacturing solutions from Roboze.
NCS Rugged Mission Systems
When the mission takes you out of the office where data-center-grade computing hardware is not an option, our specialized team develops custom solutions to meet your mission needs. Whether using COTS hardware or designing systems from the ground up, NCS provides the latest technologies to ensure system performance and functionality under extreme conditions.
Our specialized design team ensures our solutions meet unique form factor, dimensional, and port placement requirements. We have 20+ years of experience providing compute solutions for traditional data centers and for outside of the data center in environments where typical computers cannot survive.
Streamlined Design Cycle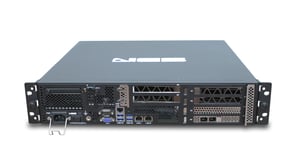 Our horizontally integrated facility houses manufacturing, engineering, inventory, and 3D print manufacturing. By collocating the electrical, mechanical, and software engineering teams, we can take a product from design to manufacturing efficiently and rapidly. Our in-house capabilities also include systems integration and mechanical labs for validation testing. We work with accredited labs for comprehensive testing, including functional, performance, noise and radio emissions, shock, drop, pitch, roll and barge shock.
Our onsite 3D print facility provides on-demand printing to build prototypes and test designs. This capability streamlines the design cycle and shortens delivery time. Our state-of-the-art manufacturing line provides the flexibility needed to build systems in any standard or customized configurations and capacity to meet volume requirements. Robotics augment our hands-on manufacturing capability for projects that demand extreme and exacting precision.
Quality and security permeate everything we do. We operate our facility in accordance with an ISO 9001, 1400, and 28000-registered Integrated Management System. We tightly control access to the facility to provide the added assurance needed to perform ITAR-related work in a secure environment.
Our products are custom designed around COTS technologies. NCS products incorporate cyber resilient technology to meet all requirements for cybersecurity. All products meet or exceed typical MIL-STDs for ground, vehicles, shipboard, and subsurface.
NCS Family of Rugged Mission Systems Servers and Storage Solutions feature the latest Intel processors, memory, storage and high-speed I/O. The servers are powerful, scalable and efficient. They are engineered to meet the demanding requirements of mission critical applications.
Roboze Additive Manufacturing Solutions
The NCS partnership with Roboze allows the company to address new markets in the United States where safety and reliability are paramount, such as aerospace, industrial and maritime applications.
Roboze solutions use high temperature super polymers and performance composites materials for the creation of finished parts where failure is not an option. Super polymers can replace metal parts because they are very strong and highly resistant to chemicals and corrosion, lightweight, and are electrically insulating.
Roboze Argo Production Series 3D Printers meet the needs of industrial manufacturing, solving common problems such as process repeatability and accuracy in the production of high performance polymers parts. They streamline production processes, save time and reduce costs. The Roboze Professional Series systems offer professional high temperature prototype and small run production printing with repeatability and accuracy during the entire production cycle.
For More Information
For more information on all of these solutions at Sea Air Space, please contact sales@ncst.com.
To learn more about NCS servers and services capabilities, please go here. Or just click on the button below.

P