Securing Government Communications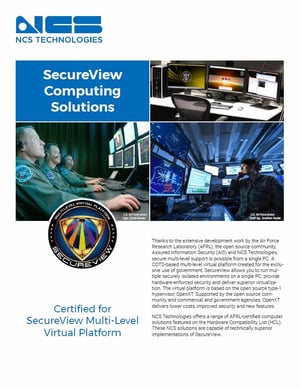 NCS has long promoted and sold hardware-based, client-hosted virtualization for government users with critical communications network security needs.
Specifically, NCS recommends the SecureView virtualization security solution when users in civilian agencies and the military need to:
Run multiple environments securely isolated on a single mobile or desktop PC

Secure compositing of multiple domain application windows into a single desktop display
SecureView was developed for the Air Force Research Lab (AFRL) to affordably meet the stringent information sharing needs of the U.S. government without compromising data security and operational efficiency. As a hardened client-hosted virtualization solution, SecureView enables independent and
concurrent access to multiple security domains. It provides performance that is independent of network bandwidth and server contention issues, providing analysts with consistent responsiveness for visually intensive analysis and collaboration.
This security solution is the result of continuing development work by AFRL, the open source community, Assured Information Security and NCS Technologies. When government knowledge workers and members of the military access multiple networks, they increasingly use SecureView, with computers provided by NCS Technologies.
SecureView Solutions Available on NCS Desktops and Workstations and Getac Tablet
SecureView supports mission requirements, giving analysts the needed performance to run advanced applications, assess threats and share findings across agencies and branches of the military. NCS Technologies provides multiple systems approved for SecureView use, including NCS Stratus MT and NCS Stratus DT desktops and NCS Vortex MT and Vortex MDT workstations. Now, NCS also sells the Getac F110 rugged tablet for SecureView use. The Getac F110 delivers performance, a large, widescreen display and a thin and light design.
To learn more about SecureView on our website, please visit: https://www.ncst.com/solutions/secureview
Or download this handy brochure: