Securing Government Communications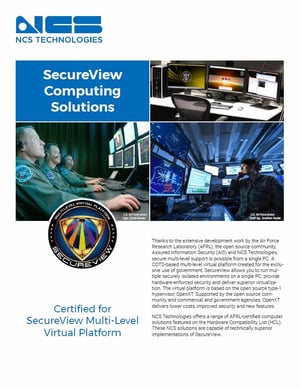 The security of government communications networks is a priority and different strategies are used, depending on the challenge.
There are programs and products used to protect personal information, databases and servers, endpoints, and ways to avoid social engineering threats.
A focus is in protecting government networks themselves. IT administrators must accommodate potential access to various levels of secure networks, depending on the message and the need. This is known as multi-level computing.When knowledge workers access multiple networks, depending on the level of security needed, they increasingly use SecureView, developed by the Air Force Research Laboratory (AFRL) and implemented by NCS Technologies.
SecureView runs multiple securely isolated environments on one PC or workstation, with hardware-enforced security. This security solution is the result of continuing development work by AFRL, the open source community, Assured Information Security and NCS Technologies.
Access Multiple Security Domains
SecureView provides local application execution and concurrent access to multiple security domains. This supports mission requirements, giving analysts the needed performance to run advanced applications, assess threats and share findings across agencies. NCS Technologies systems approved for use include the Stratus MT and Stratus DT desktops and the Vortex MT and Vortex MDT workstations.
To learn more about SecureView on our website, please visit: https://www.ncst.com/solutions/secureview
Or download this handy brochure: