10th Annual Small Business Procurement Conference
The Social Security Administation Thursday hosted its tenth annual procurement conference at the Mikulski Auditorium, Baltimore. The conference focused on providing updates on its Socio-Economic Programs and discussed Initiatives for Digital Services. The conference is an annual event that allows small businesses to engage with contract representatives, SSA employees, contractors and other agencies.
NCS is a proud supplier to the SSA, providing HP notebooks and laptops, as well as peripheral equipment, accessories and associated services.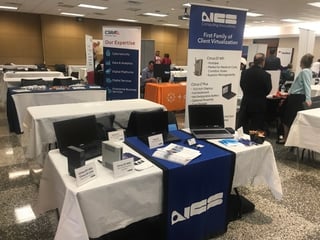 Also at the conference NCS showcased its broad family of virtualized endpoints, known as zero clients in the industry. Zero clients offer the most secure and innovative virtual desktop infrastructure (VDI) end points available.
NSC zero clients come in both notebook and desktop options, delivering security, manageability, mobility and portability where needed for a truly superior virtualized computing experience.
The NCS zero client end point advantage:
M

obile, portable (WiFi enabled) or desktop choices

NSA Suite B security

AES-256 encryption

No hard drive

No OS

No local storage

No persistent user data

No antivirus needed
NCS has a zero client solution for every end-user need. Our portfolio includes:
Cirrus LT - The industry's first zero client notebook PC
Cirrus LT Plus - A larger display, full keyboard and exciting options
Cirrus DT WiFi - A desktop with industry-leading portability and manageability
Cirrus TZ-202L - A desktop supporting up to two displays
Cirrus TZ-204L - A desktop supporting up to four displays
To learn more about our solutions for the federal government sector, please contact NCS Sales at (703) 743-8500, Option 2. To learn more about our virtualization solutions, please download this brochure