Putting the Virtual Desktop on the Move In Hospitals
The annual HIMSS17 healthcare IT conference begins in Orlando in two weeks. NCS will be at Booth #5644. Virtualization will be one of the prime IT topics at HIMSS17. Many healthcare institutions are turning to virtualization to improve IT manageability, reduce complexity, reduce costs and dramatically improve data security.
VDI is a broad subject, and more and more administrators are looking for payoffs outside servers in the data center. As administrators look to the endpoint or desktop level, there is still some confusing over labeling. Endpoints may be called thin clients or zero clients. In fact, a Google search for zero clients will return mostly thin client desktops. So a legitimate question may be, what's the difference?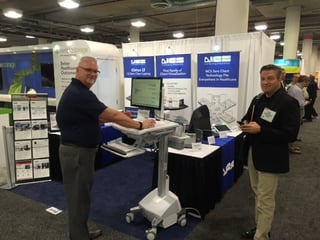 Virtualization: Thin versus Zero Client
In a nutshell, the thin client retains a small capacity hard drive, some local memory and an embedded OS. This implementation still requires some administration and is vulnerable to security exploitation. A zero client, in comparison, has no local OS or hard drive. The operating system resides in the data center. Therefore, there is no persistent user data, no patches, updates or antivirus software needed. Of the several ways to virtualize an endpoint, zero clients are the easy-to-implement, easy-to-manage, low-cost strategy winner.
Making that Endpoint Portable with WiFi and WOW
Healthcare environments provide additional challenges when considering endpoint virtualization. One of the biggest challenges involves mobility and portability. For unlimited mobility, many in healthcare are turning to our family of zero client notebook PCs - the Cirrus LT and Cirrus LT Plus, both equipped with WiFi capability.
But today's blog concerns portability. In hospitals, for instance, virtual desktops are often moved down hallways from patient to patient using a Workstation on Wheels (WOW). But virtual desktop products are known to be difficult and complex to administer, epecially when they are tied to undependable bridges for networking.
Cirrus DT WiFi directly addresses that networking challenge. Cirrus DT WiFi is easy to manage, roams effortlessly through corridors and patient areas and uses three dipole antennas for superior reception. We partner with Ergotron StyleView to deliver an award-winning Workstation on Wheels (WOW) solution to enhance workflow and patient care.
To learn more about Cirrus DT WiFi and our Workstation on Wheels solution, please download this brochure.