VMworld Day 4 at Mandalay Bay, Las Vegas
Interest in desktop virtualization is a strong focus for many attendees at VMworld 2017 in Las Vegas. Many IT managers come to our booth to continue earlier discussions from weeks or even months ago. But there are also many IT administrators, who know little about us, who stop by to discuss "next steps". They have already virtualized the data center, perhaps even through private or public clouds services, and now they are ready to tackle the desktop.
The questions are many. What products does NCS offer? In what use cases are they typically implemented? How easy are they to manage? What are their price points? How secure are NCS zero clients? Over the past few days we have also fielded many questions about the desktops virtualization protocols available. Since this is a VMware show, the two most popular VMware ecosystem protocols being discussed are PCoIP and Blast Extreme, but other protocols do come up.
It is the NCS view that the PCoIP protocol from Teradici continues to be the best choice over alternatives, primarly because of its proven manageability, iron-clad security and the overall performance - even in challenging high definition environments.
PCoIP transfers the image of software running in the data center to any PCoIP end point (zero client). Because the protocol transfers only the pixel data location information, it's super secure - no secrets or personal data or business information ever leaves the data center. The PCoIP security module leverages the AES 256 and NSA Suite B cyphers, which meet the highest level of security required by governments.
In applications requiring higher bandwidth, PCoIP shines over Blast Extreme and the rest of the competition, including including Remote Desktop Protocol and HDX. If bandwidth becomes variable, competing protocols can deliver choppy screen results. But a PCoIP client, assisted by hardware acceleration, will maintain smooth video motion by slightly varying the resolution to optimize the viewing experience.
It is fair to say that Blast is creating strong interest from the VMware user base but from all comparable data administrators will still be better off by going with the PCoIP protocol.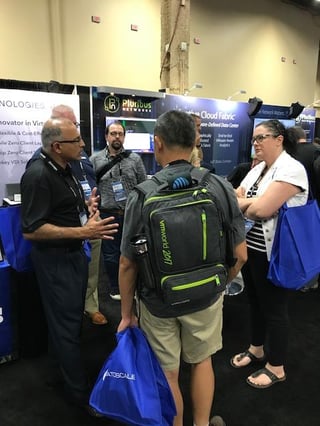 NCS is the world leader in productizing PCoIP zero client technology with our comprehensive product line that includes WiFi enabled, zero client desktops and notebooks. On the booth are Matt Cooke, Mike Turicchi and John Callahan, who can demonstrate laptop zero clients and long with a variety of desktop implementations. NCS zero clients improve manageability, drive down cost of ownership and improving security in desktop with customer installations all over the planet.
Ultra Secure Zero Clients at Booth #823
NCS offers a complete family of virtualized zero clients. The NCS portfolio includes:
* Zero Client Desktops With Dual Display - Cirrus TZ-202L & Cirrus DT 5220
* Zero Client Desktops With Quad Display - Cirrus TZ-204L
* WiFi Zero Client Desktops with Dual Display - Cirrus DT WiFi & Cirrus DT 5230
* Zero Client Laptops - Cirrus LT & Cirrus LT Plus
To learn more about NCS zero clients solutions, just download this brochure.